Tapo Indoor/Outdoor Wi-Fi Home Security Camera
|
Tapo C120 V1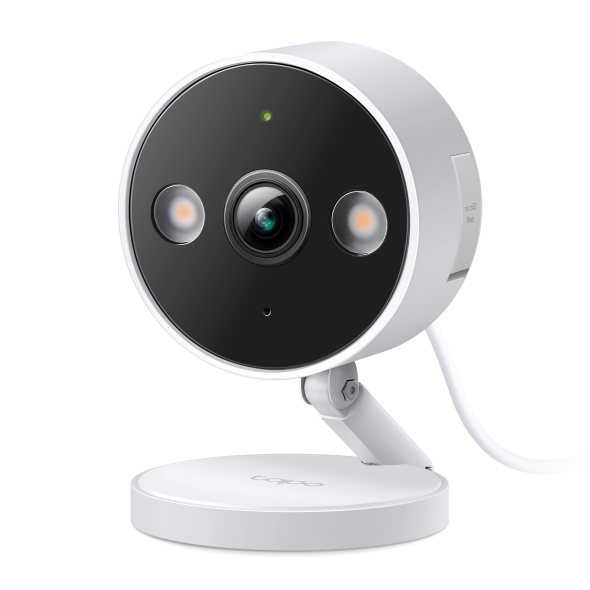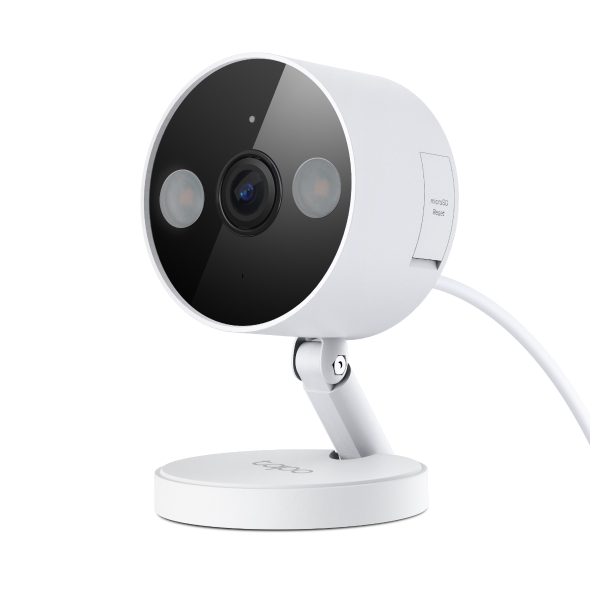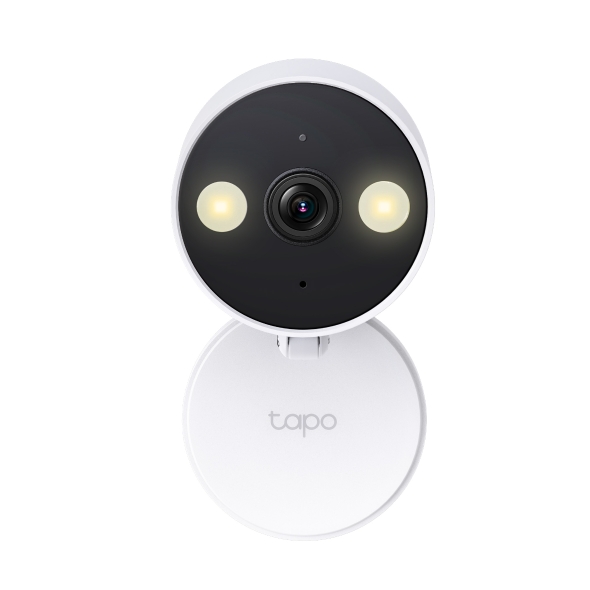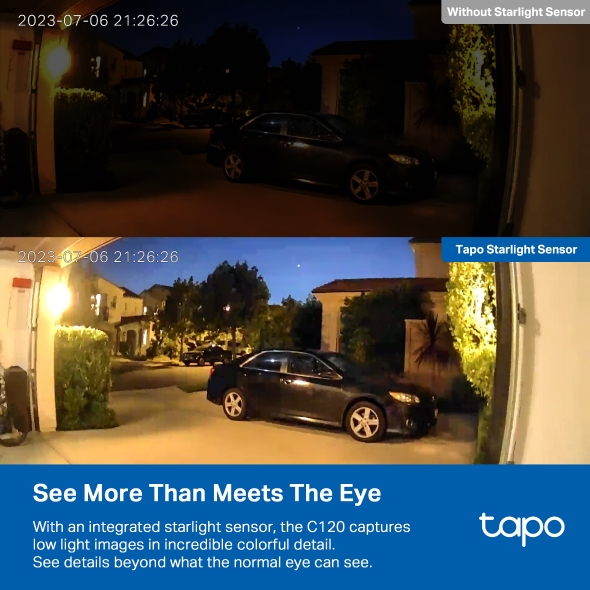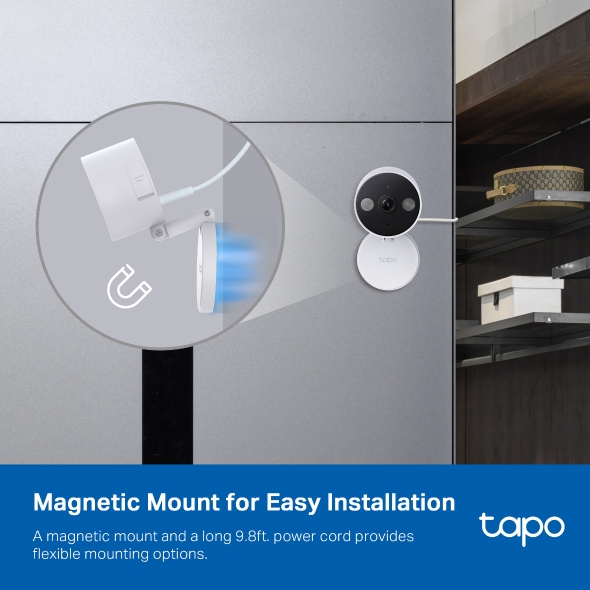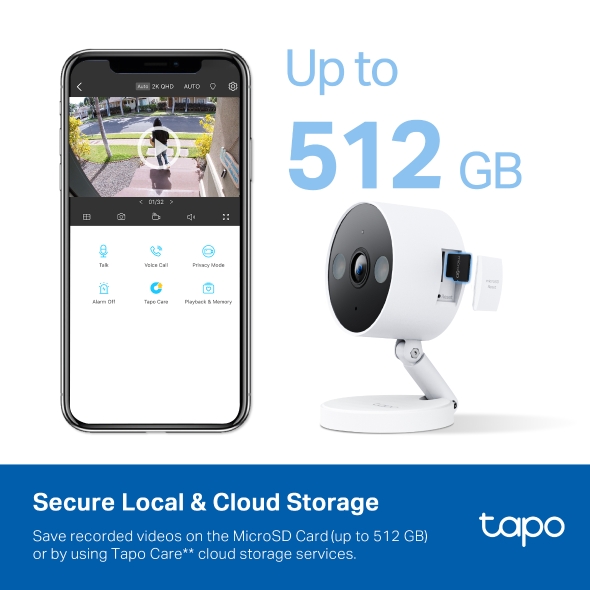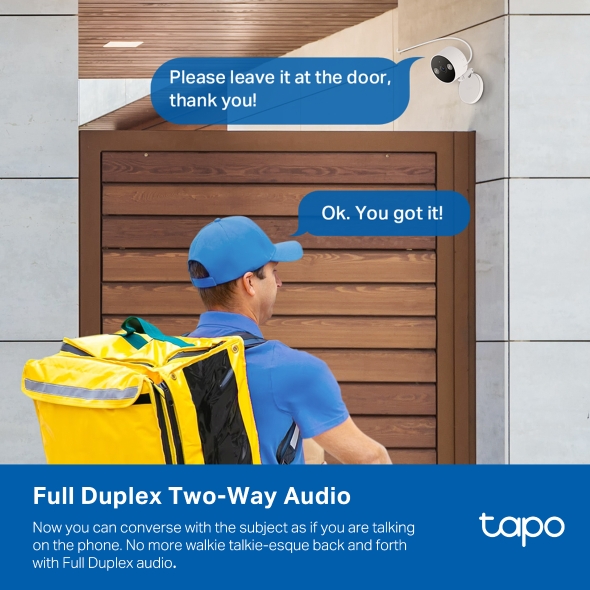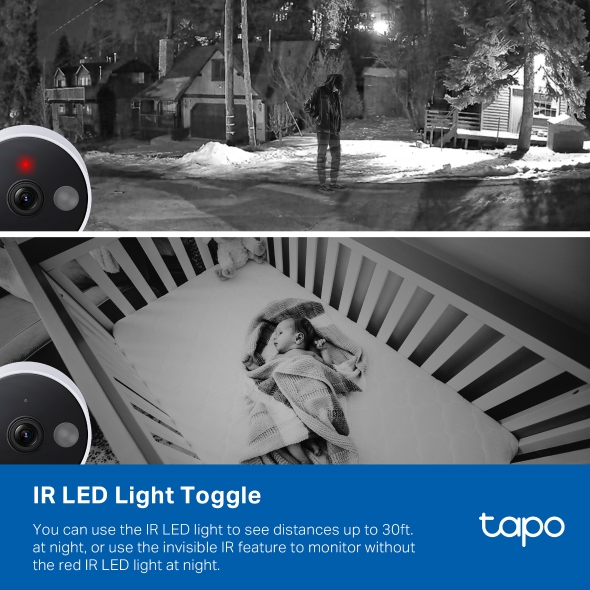 Tapo Indoor/Outdoor Wi-Fi Home Security Camera
Tapo C120
Indoor & Outdoor 24/7 Monitoring - Place it in your living room, bedroom, baby's room, backyard, or front door for round-the-clock coverage and IP66 weatherproof construction: day, night, rain, or shine
2K Color Night Vision - With an integrated starlight sensor, the C120 captures low light images in incredibly high definition colorful detail up to 98 ft. away—see beyond what the naked eye can see!
2K Clarity During the Day - When it comes to your home's protection, the details matter! 2K QHD clarity goes beyond traditional FullHD 1080p resolution so that no details will go undetected or blurred
Built-In Dual Spotlights - With Tapo C120's dual spotlights, pierce through the darkness and low light conditions for an enhanced viewing experience at night while still being displayed in full color
Ultra Easy & Hassle-Free Installation - Installation and mounting are a breeze with the C120's strong and adjustable magnetic base while its 9.8 ft. power cord grants you the flexibility to place it virtually anywhere
Optional Invisible Infared Lights - If the red IR LEDs are a distraction to you, your children, or your pets, you may switch to invisible IR mode to continue monitoring throughout the night but without the red IR indicator
FREE Smart AI Detection - Smart AI technology detects and identifies people, pets, and vehicles, sending you only relevant notifications while effectively avoiding unnecessary alerts
Customizable Sound & Light Alarm - Record your own audio to use as an alarm and adjust the brightness of the spotlight to suit your preferences for a completely customized alarm system to deter intruders
Full Duplex Two-Way Audio - Listen and speak to guests, delivery drivers, and pets on the other side of the camera with enhanced clarity thanks to Tapo C120's premium microphone and speakers
Secured Local & Cloud Storage - Keep up to 512 GB of footage stored continuously on a microSD card (sold separately) or choose our Tapo Care Cloud subscription service, which not only saves your 30-day video history but also provides additional benefits such as activity notifications with snapshots
Compatibility with Amazon Alexa & Google Home - Take command with voice control capabilities through popular third-party devices like Amazon Alexa and Google Home, allowing you to effortlessly manage your Tapo C120 and enjoy true hands-free operation
Cross-Line Detection - Manually set no-go zones through the free Tapo Care app then be immediately alerted when movement is detected within or around this restricted area

Outdoor or Indoor.
Stay Protected Anywhere.
2K Smart Plug-In Wi-Fi Security Camera
Tapo C120
Indoor/Outdoor Usage
IP66 Water and Dust Resistance
IP66 Weatherproof
Indoor/Outdoor Security
Full-Color Night
Vision with Starlight Sensor & Spotlights
Magnetic Base for Easy Installation
850nm or 940nm
Invisible IR Mode
Full Duplex Two-Way Audio
Customizable Cross-Line Detection
Customizable Sound and Light Alarm
Local & Cloud Storage (Up to 512GB MicroSD)
Indoor/Outdoor Versatility. Almost anywhere
Exquisite Design

Exquisite design suitable for
diversified indoor scenarios.

IP66 Weatherproof

Mounted even in extreme external weather conditions to keep an eye on your home.
2K At Night In Color

2K During The Day
See More Than Meets The Eye
With an integrated starlight sensor, the C120 captures low light images in incredible colorful detail. See details beyond what the normal eye can see.
Without Starlight Sensor
Tapo Starlight Sensor
A Clearer Picture is Priceless
Details matter, and with 2K QHD clarity, the C120 goes a step beyond traditional FullHD resolution with finer details and incredible clarity.
1080p Full HD
*Photo Enhanced to Amplify Feature
2K QHD 4MP
Robust IP66 Weatherproofing

Secure Installation with Weatherproof

Mounts securely in your desired placement under different weather condition with IP66 Weatherproofing.

Versatile Magnetic Mount

Magnetic Mount for Easy Installation

A magnetic mount and a long 9.8ft. power cord provides flexible mounting options.
Free Smart AI Detection
With smart AI detection,choose to detect vehicles,pets,people,or all three.
Vehicle
Person
Pet
Vehicle Detection
Person Detection
Pet Detection
Sound & Baby Cry Detection
Be notified of sound that is detected as well as the cries of a baby.
IR Toggle (Red Lights) For Night Vision
IR LED On

The IR light assists in providing night vision visibility up to 30 ft. It is also a great deterrent to let passersby know that your home is being monitored.

Invisible IR On

If the red IR LEDs are a distraction, you can switch to invisible IR mode to monitor during the night without having the red IR indicator. Ideal for indoor scenarios with children and pets.
Secure Local & Cloud Storage
Save recorded videos to a microSD card†(up to 512 GB) or by using Tapo Care** cloud services.
Up to 512 GB local storage† equals 680 hours (about 28 days) of 2K QHD footage, freeing you from being stuck with limited built-in storage.

Receive rich notifications with snapshots, encrypted protection, data backups, and 30-day video clip history with Tapo Care** cloud services.

**Tapo Care cloud storage services require a subscription. A free trial for the first month is provided.
Please leave it at the door,
thank you!

Full Duplex Two-Way Audio

Now you can converse with the subject as if you are talking on the phone. No more walkie talkie-esque back and forth with Full Duplex audio.

Alexa, show baby room camera

Voice Activated View

Check in on your loved ones when used with a supported device. Works with Alexa and Google Assistant.
Dual-Spotlights for Improved Discovery
Better Visibility in Any Condition

With dual-spotlights the Tapo C120 provides a better viewing experience especially in low light conditions.

Light and Custom Sound Triggers

The camera can be set to have the spotlights turn on when motion is detected. You can also customize sound to play in the event of a motion trigger.
†microSD card purchased separately. Actual storage capacity depends on the size of the microSD card used.
**Subscribe for cloud storage service at http://www.tapo.com/tapocare
Please be aware that our product requires connection to a power source for normal operation. All images and graphics provided are solely for marketing and visual reference purposes and may not reflect the exact details of the actual product. We strive to ensure the accuracy of all information but accept no liability for any misunderstandings or misinterpretations resulting from the use of these images or information. We recommend thoroughly understanding the product's features and requirements before purchasing.
Walk You Through Setup Step by Step
Download and open Tapo App

Tap Plus (+) to add your smart device

Look for your device and connect

Name the device and choose the room it's in

Congratulations! You've now completed the configuration
Specifications
CAMERA
Image Sensor:
1/2.9" Progressive Scan CMOS Starlight Sensor
Night Vision:
850 nm IR LED (30 ft / 10 m)940 nm IR LED (30 ft / 10 m)Full-Color Night Vision
Resolution:
2K QHD 4MP (2560 * 1440 px)
LENS
FOV:
120°(Diagonal), 103°(Horizontal), 55°(Vertical)
AUDIO
Audio Communication:
Two-Way Audio
Audio Input & Output::
Microphone and Speaker
NETWORK
Protocol:
2.4 GHz Wi-Fi, 802.11b/g/n
Wireless Rate:
11 Mbps (802.11 b)54 Mbps (802.11 g)72.2Mbps (802.11n)
Wireless Security:
WPA, WPA2-PSK
Security:
128 Bit AES Encryption with SSL/TLS
ACTIVITY NOTIFICATIONS
Input Trigger:
Person/Pet/Vehicle/Motion Detection
Output Notification:
Push Notification
ENVIRONMENT
Operating Temperature:
0℃~40 ℃ (32 ℉~104℉)
Storage Temperature:
-20℃~60 ℃ (-4 ℉~140℉)
Operating Humidity:
10%~90% non-condensing
Storage Humidity:
0%~90% non-condensing
PACKAGE CONTENTS
Tapo C120 Camera ×1Power Adapter ×13m Type-C Wire ×1Mounting Anchors ×4Mounting Screws ×4Cable Organizer ×2Mounting Template ×1Iron Camera Base ×13M Adhesive ×1Quick Start Guide ×1
HARDWARE
Indicator LED:
System LED
Adapter Input:
100-240V, AC, 50/60 Hz, 0.3 A
Adapter Output:
5.0 V / 1.0 A
Product Dimensions (W x D x H):
2.65*2.26*1.74 in67.4*57.4*64 mm