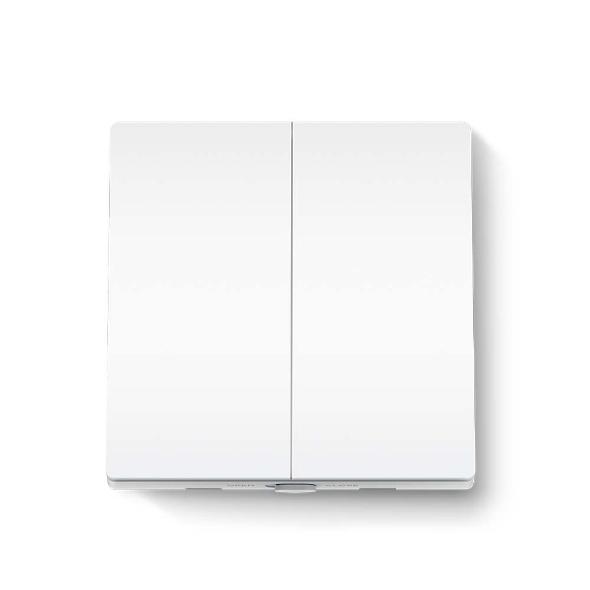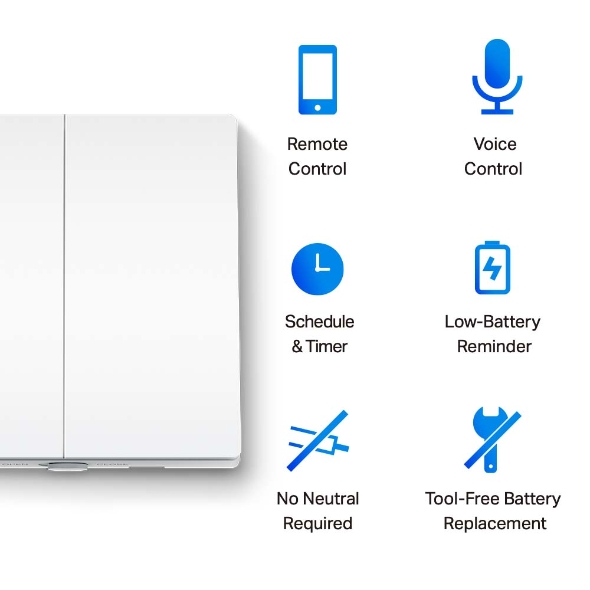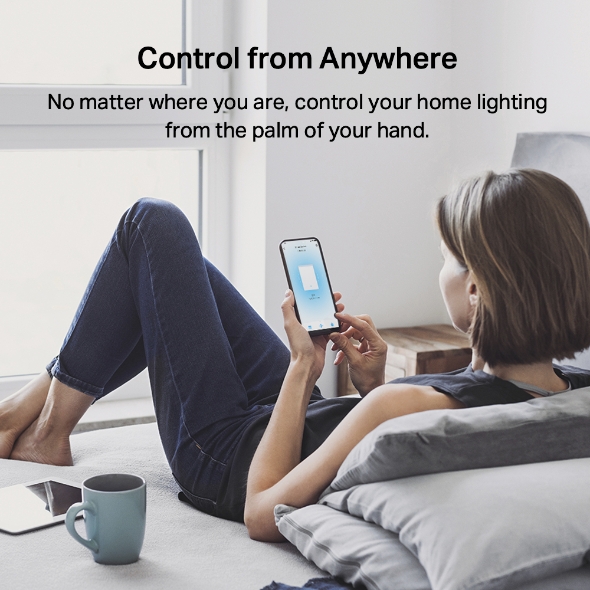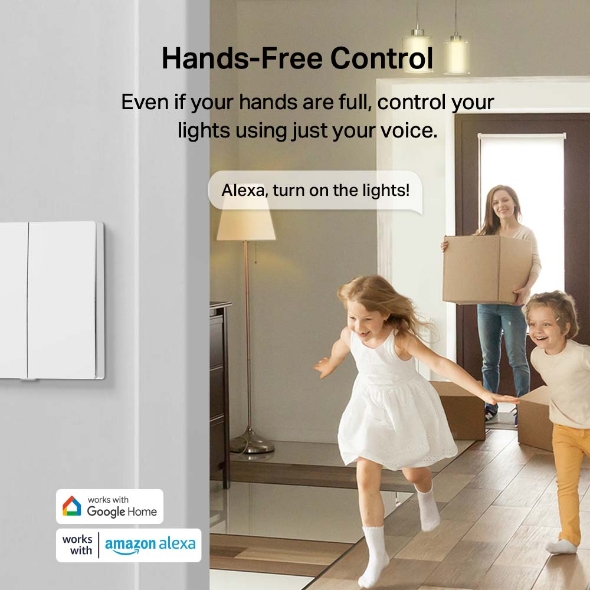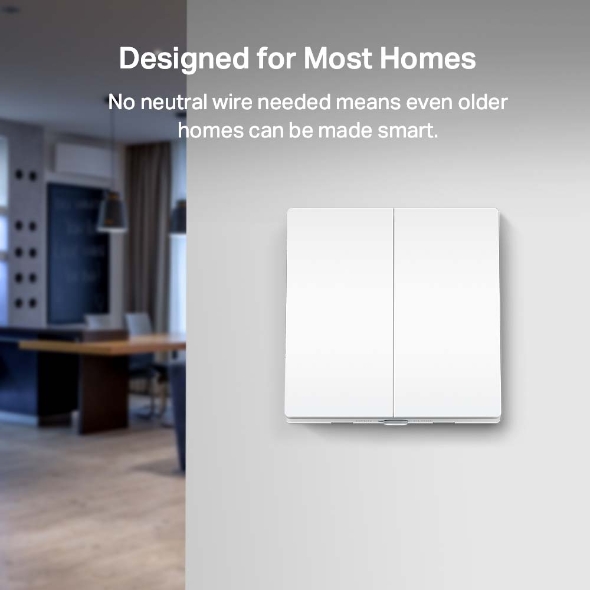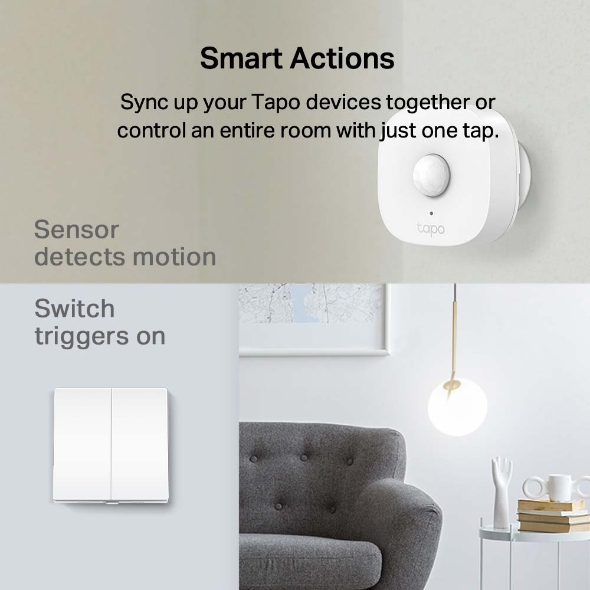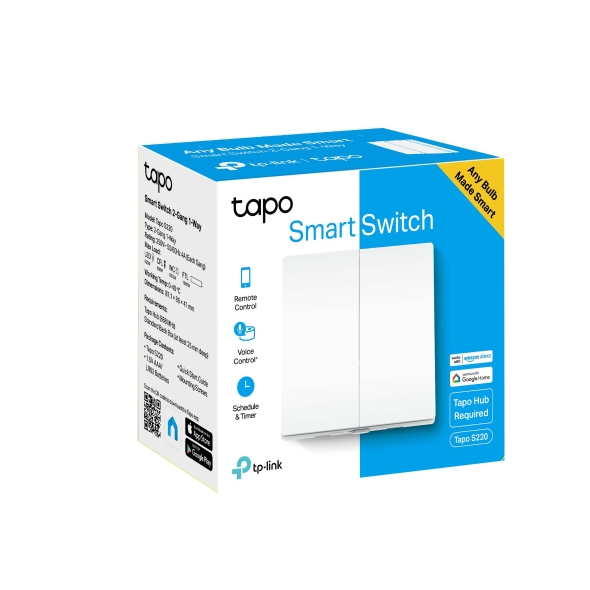 Smart Light Switch, 2-Gang 1-Way
Tapo S220
Remote Control – Instantly turn the light on/off wherever you are through the Tapo app.
Voice Control– Manage your switch with voice commands via Amazon Alexa or the Google Assistant.
Schedule – Preset a schedule to automatically manage devices.
Away Mode – Automatically turn the light on and off at different times to give the appearance that someone is home.
Tool-Free Battery Replacement - Easily replace batteries after installation, no need of other tools.
No Neutral Wire Required - Super easy wiring. No neutral wire required.
Make the Seamless Switch to Smart Living
Tapo S220 2-Gang | 1-Way
Remote Control

Voice Control

Schedule & Timer

Away Mode

No Neutral Wire Required

Low-Battery Reminder

Works with Sensors

Hassle-Free Installation
Control from Anywhere
Unsure you turned off the light in the other room? Just check the Tapo app and turn off the lights from the comfort of your bed.
Hands-Free Control
No matter how many boxes you're carrying, just tell your favorite voice assistant to turn on the lights for you.
Alexa, turn on the lights!
Set Schedules & Delayed shutoff
A true smart home runs itself. Schedule when your lights turn on to match your daily routine or set a timer for added convenience.
Sync your lights to turn on when you wake up.

Set your bathroom lights to turn on and off so you know when your 8-minute soak is up.

Give yourself a few more minutes of light before you leave home by delaying shutoff.
Enhanced Experience with Smart Actions
With Smart Acitons, your Tapo devices work seamlessly together to create a smarter home.
Trigger your switch when motion is detected with the Tapo Motion Sensor.
Group lights and devices onto one switch to control the entire room with a single tap.
Easy Installation and Maintenance
Hot / Line

Lin

Lout

No Neutral Wire Required

Works in every home without needing to rewire.

Tool-Free Battery Replacement

Allows you replace the batteries by yourself without seeking help from an electrician.
No One Needs to Know You're Away
Forget about leaving a light on for hours while you're out and about. Away Mode lets your switch turn a light on and off like someone's actually home. This deters burglars while saving energy.
Designed for Every Home
Most smart switches require a neutral wire, but Tapo doesn't. Experience every smart feature without paying an electrician to rewire your whole home.
Great Compatibility. No Flickering.
Supports all common types of light bulbs under 1000 W, with no minimum load requirement. No flickering can be guaranteed.
Designed for All Family Members
The Tapo Smart Switch keeps things simple with manual control. Perfect for those who prefer the good old times or those too young for their own phone.
Setup Made Simple
Once you've installed the Tapo app and followed its in-app guide, replace your traditional switch and pair with a Tapo Hub (H100) to begin using your smart switch.
Download the free app
Follow the in-app guide
Install and pair the switch to H100
Part of the Tapo Ecosystem
To experience the full features of your Tapo,
connect it to a Tapo Hub (H100 or H200) for a truly connected home.
Walk You Through Setup Step by Step
Download and open Tapo App

Tap Plus (+) to add your smart device

Look for your device and connect

Name the device and choose the room it's in

Congratulations! You've now completed the configuration
Specifications
GENERAL
Operating Temperature:
0ºC~ 40ºC (32°F ~ 104°F )
Operating Humidity:
10%~90%RH, Non-condensing
Dimensions( H X W X D ):
87.1 × 86 × 41 mm
Certifications:
CE, RoHS, UKCA
PACKAGE CONTENTS
Tapo S2202× 1.5 V AAA/LR03 Batteries2× Mounting ScrewsQuick Start Guide
TECHNICAL SPECIFICATIONS
Standby Power Consumption:
65uA
Rating:
250 V~ 50/60 Hz 4 A (Each Gang)
Max Load:
600 W LED / 600W CFL / 1000W INC / 1000W FTL / 50 W Fan