How to update the firmware of the Tapo&Kasa devices on the Tapo App
TC40, TC60, TC65, TC70, TC71, TC73, TC85, TL31, TL33, Tapo C100, Tapo C110, Tapo C110P4, Tapo C111, Tapo C120, Tapo C125, Tapo C200, Tapo C210, Tapo C210P2, Tapo C211, Tapo C212, Tapo C220, Tapo C225, Tapo C310, Tapo C310P2, Tapo C320WS, Tapo C325WB, Tapo C400S2, Tapo C420, Tapo C420S1, Tapo C420S2, Tapo C420S4, Tapo C425, Tapo C500, Tapo C510W, Tapo C520WS, Tapo D130, Tapo D230S1, Tapo H100, Tapo H200, Tapo L510B, Tapo L510E, Tapo L520E, Tapo L530B, Tapo L530E, Tapo L535B, Tapo L535E, Tapo L610, Tapo L630, Tapo L900-10, Tapo L900-20, Tapo L900-5, Tapo L920-10, Tapo L920-5, Tapo L930-10, Tapo L930-5, Tapo P100, Tapo P100M, Tapo P105, Tapo P110, Tapo P110M, Tapo P115, Tapo P125, Tapo P125M, Tapo P135 KIT, Tapo P300, Tapo P400M, Tapo RV10, Tapo RV10 Lite, Tapo RV10 Plus, Tapo RV20, Tapo RV20 Mop, Tapo RV20 Mop Plus, Tapo RV20 Plus, Tapo RV30, Tapo RV30 Plus, Tapo RV30C, Tapo RV30C Mop, Tapo RV30C Plus, Tapo S200B, Tapo S200D, Tapo S210, Tapo S220, Tapo S500, Tapo S500D, Tapo S505, Tapo S505D, Tapo T100, Tapo T110, Tapo T300, Tapo T310, Tapo T315
The firmware of the TP-Link smart devices can only be updated by using the TP-Link App. Here we introduce the method to update the firmware via the Tapo app, and please make sure you've downloaded this app before continuing.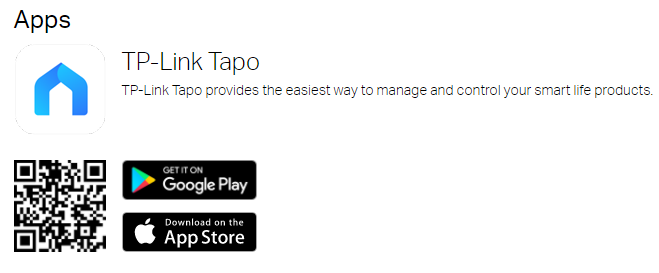 Before you begin:
Please log into the Tapo app with your cloud account and make sure you can control your smart devices.
Please note that do not power off your smart device during the update.
Method1:
Here we take the Tapo P110 as an example.
Step 1.
On the Home page, tap on your plug model card to go to the plug control panel.
Tap the icon at the top right corner to go to the Device Settings page.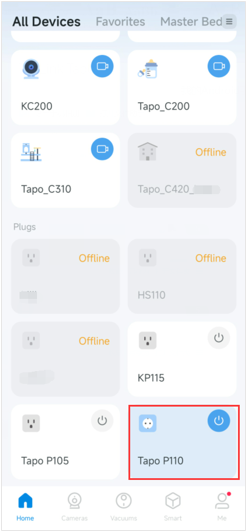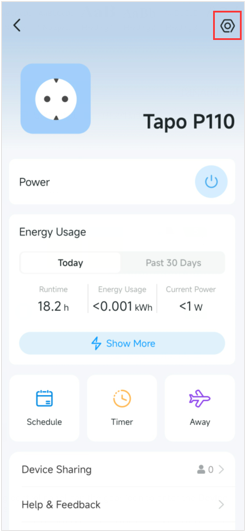 Step 2.
You can tap Firmware Update on the Device Settings page to check for updating the firmware and customizing Auto Update Time.
Note:
Not all smart devices support the Auto Update feature.

You can turn off the Auto Update feature according to your needs.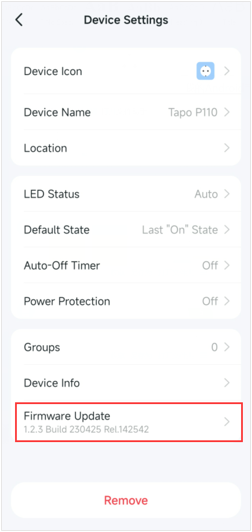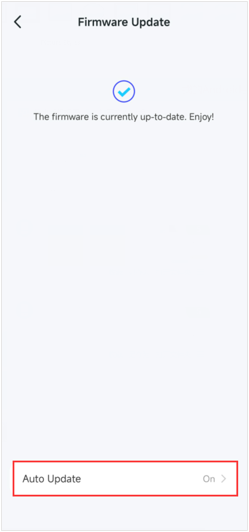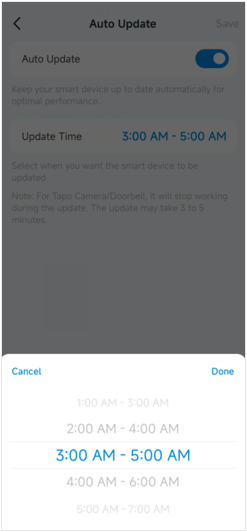 Method 2:
Please go to Me> Firmware Update to check for updates or update the firmware.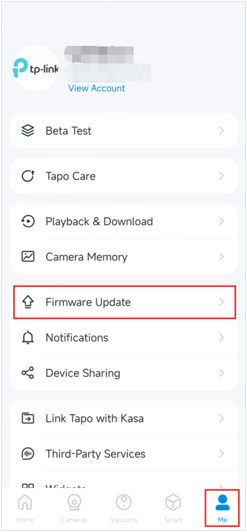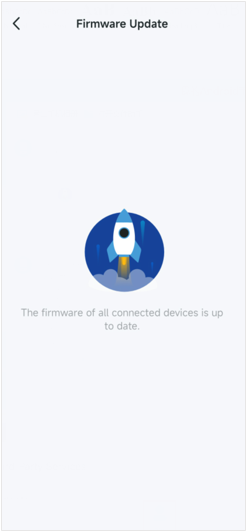 Get to know more details of each function and configuration please go to Download Center to download the manual of your product.