Robot Porszívó & Felmosó + Okos Automata ürítős Dokkoló
|
Tapo RV10 Plus V1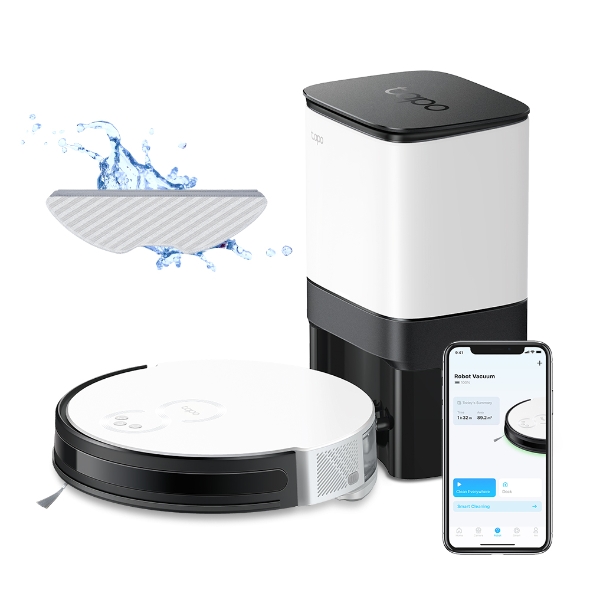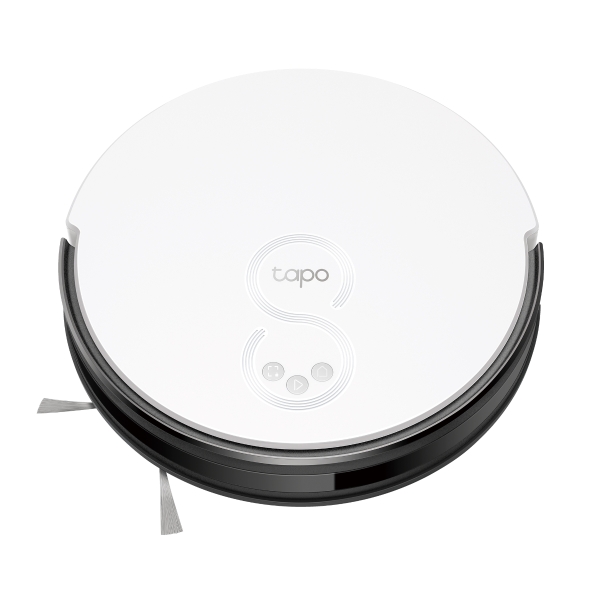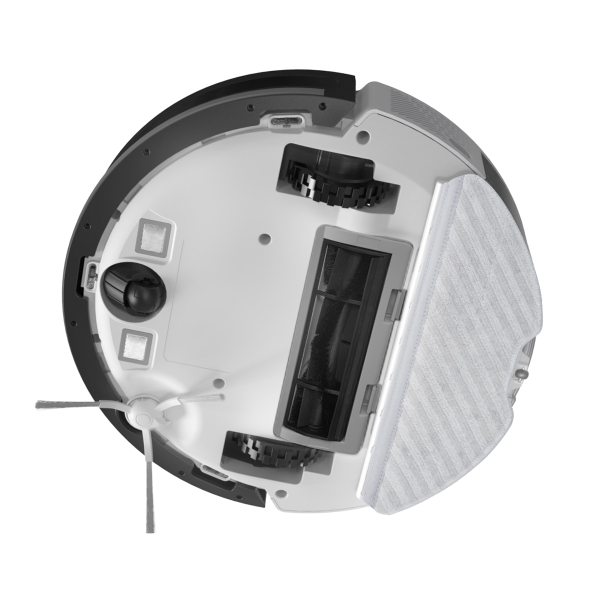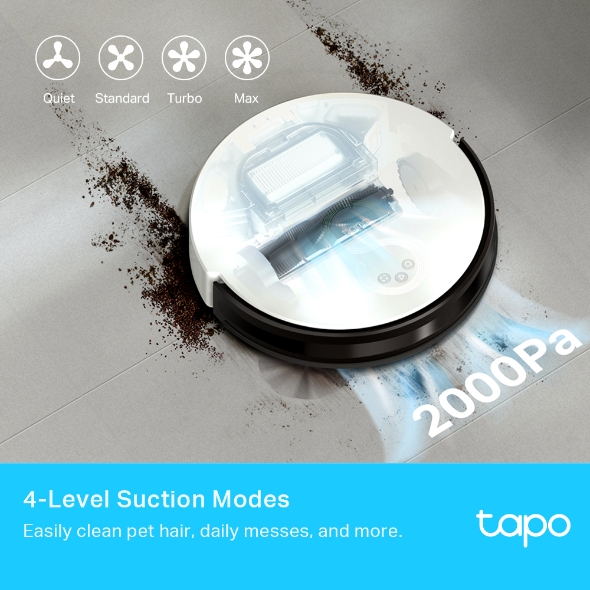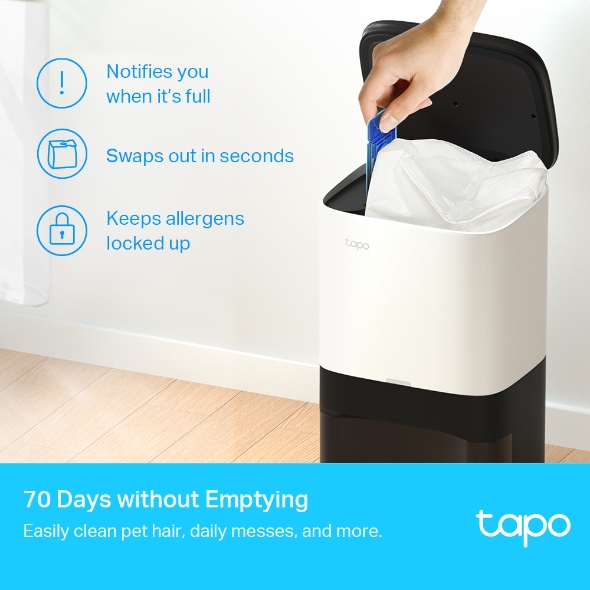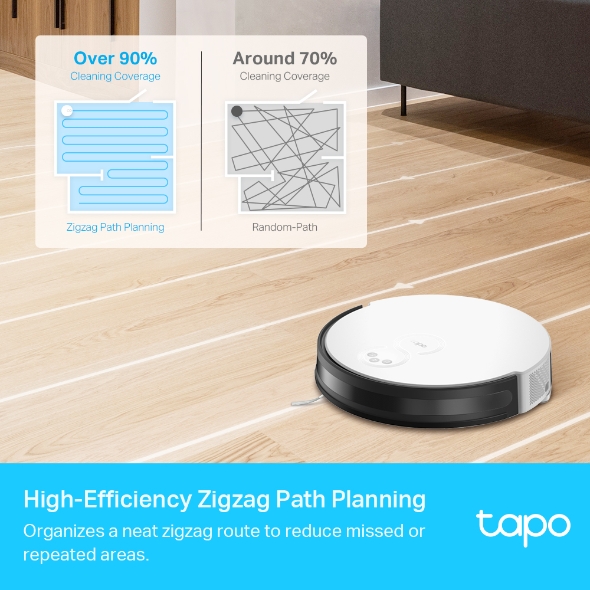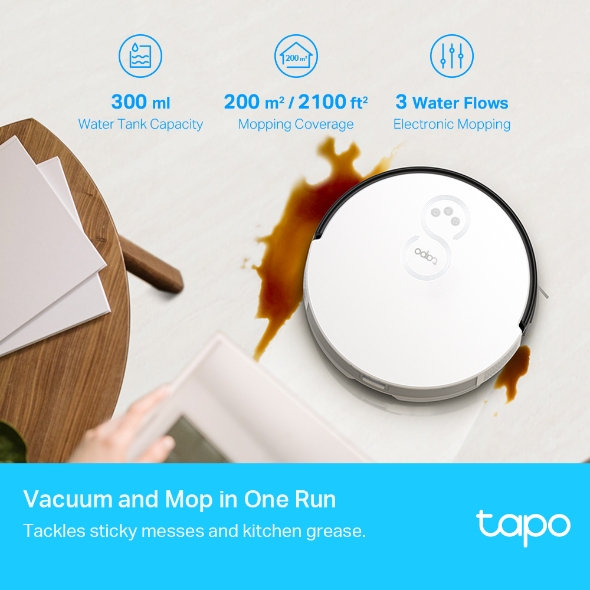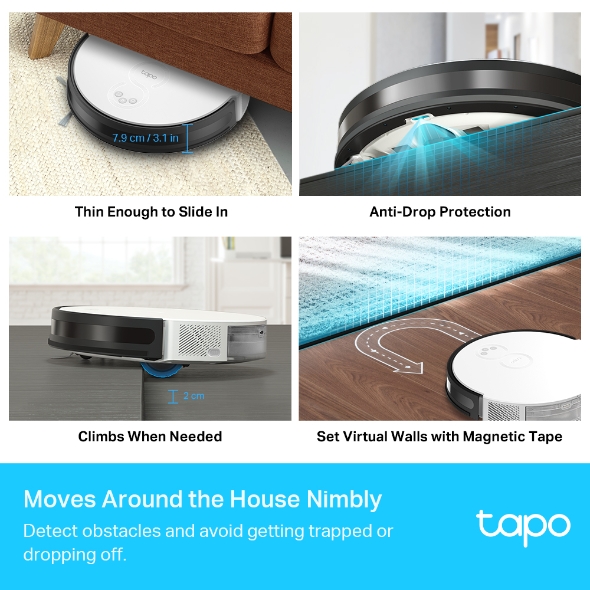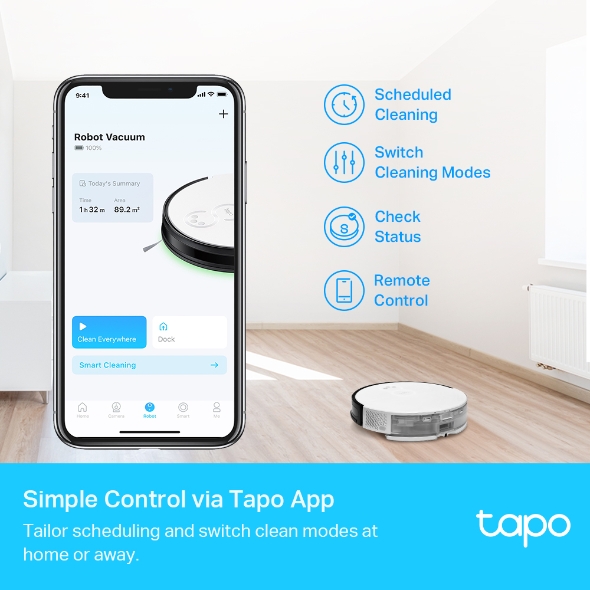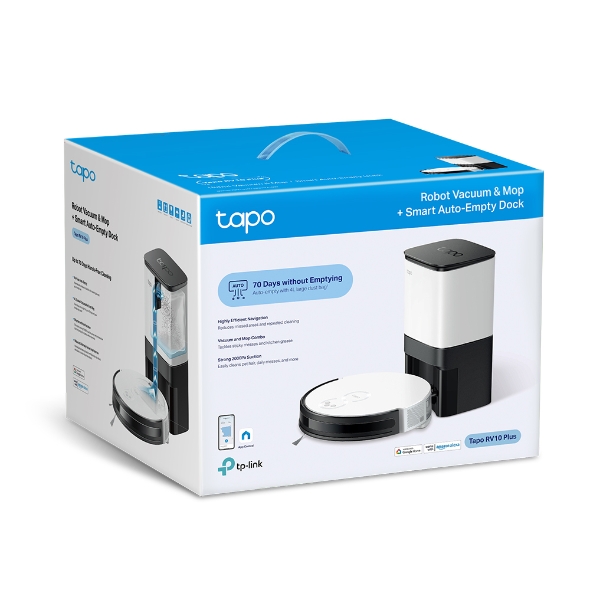 Robot Porszívó & Felmosó + Okos Automata ürítős Dokkoló
Tapo RV10 Plus
Automatikus ürítés 4 literes nagy porzsákkal – Tisztítás után automatikusan kiüríti a szemeteskukát a dokkolónál, így akár 70 napig nem kell ürítenie. 1
Nagy hatékonyságú cikk- cakkos útvonaltervezés – Cikcakkos útvonalon dolgozik a kihagyott vagy ismétlődő területek csökkentése érdekében.
4-szintű szívóerő - 2000 Pa szívóerő. Könnyen megbirkózik a háziállatok szőrével is.
Vákuum és felmosó kombó – A 3 fokozatú elektronikus felmosó eltávolítja a ragacsos szennyeződéseket és a konyhai zsírt az alaposabb tisztítás érdekében.
Egyszerű vezérlés a Tapo App segítségével – Szabja meg az ütemezést vagy indítsa el távolról és mire hazaér a lakása már tiszta.
3 órás folyamatos tisztítás – 2600 mAh-s, hosszú élettartamú akkumulátor az otthona tisztításához egyetlen töltéssel. 2
Automatikus töltés – Automatikusan visszatér a töltődokkolóhoz, amikor az akkumulátor lemerül, majd újraindul ott, ahol abbahagyta.
Carpet Auto-Boost – Növeli a szívóerőt, amikor kemény padlóról szőnyegre vált a porszívó.
Hangvezérlés – Egyszerűen küldjön hangutasításokat intelligens hangszórókon (Alexa, Google assistant) keresztül.
Smart Empty, Live Easy.
Robot Vacuum & Mop + Smart Auto-Empty Dock
Tapo RV10 Plus
Auto-Empty
4L Large Capacity 70 Days without Emptying1
Simple Control via Tapo App
Manage Your Robot Anywhere
3 Hours
Continuous Cleaning2
Quiet Cleaning
Powerful Clean without Disturbance3
Speak to Clean
Works with Alexa and Google Home
4-Level Suction Modes
Match Flexible Cleaning Needs
Quiet
Standard
Turbo
Max
3-Level Electronic Mopping
Tackles Sticky Messes
Zigzag Path Planning
Reduces Missed or Repeated Areas
70 Days without Emptying
RV10 Plus empties its dustbin automatically after cleaning to keep your hands free. Dust stays out of sight for up to 70 days with a disposable 4L extra-large sealed dust bag. Easily swap out the bag in seconds after the system notifies you that it's full. This keeps allergens locked up the entire time.1
4L Sealed Dust Bag

Swap out in seconds,
No allergens escape into the air.
No Residue with Shortened Air Duct
With a tail-suction air duct that is nearly 45% shorter than ordinary bottom-suction ducts and 27000Pa super-strong suction power, the dock empties in moments, leaving no residue in the bin or on the floor.
Up to 45% Shorter
750 mm
Ordinary Air Duct
400 mm
Tail-Suction Air Duct
Reduce Untimely Noise Interference
Exclusive function is specially designed for our dock to improve user experience. Our dock auto-adjusts its emptying duration according to the cleaning time length of the robot to reduce noise. With do-not-disturb mode, it won't auto-empty during nightly cleans for more peaceful sleep.
High-Efficiency Path Planning
Smart systematic navigation guides RV10 Plus to organize a neat zigzag route for higher cleaning efficiency and fewer omissions compared with random-path robotic vacuums.
Over 90%
Cleaning Coverage4
Zigzag Path Planning
Around 70%
Cleaning Coverage
Random-Path
4-Level Suction for Flexible Needs
Four vacuum modes with different levels of suction power meet various cleaning needs. With a maximum suction power of 2000Pa, Tapo RV10 Plus is ideal for direct, powerful cleaning of carpets and hard floors.
Auto-Boost to Max Mode

when encountering carpets for a deep clean.

HEPA Filter

captures 99.9% of allergens as small as 0.3 microns.

Floating Suction Mouth

sticks closely to the ground to remove gap dust.

Detachable Main Brush

makes it easy to clean the tangled hair for improved maintenance.
Vacuum and Mop Combo
Vacuuming sucks up floating dust and mopping tackles sticky messes. Mopping is essential for homes with hard floors that need regular polishing. With an electronic pump, RV10 Plus provides 3 water flows to suit different floor types with consistent and steady water pressure.
*For best results, use the Tapo Multi-Surface Floor Cleaning Solution.5
300 ml

Water Tank Capacity

200 m2 / 2100 ft2

Mopping Coverage6

3 Water Flows

Electronic Mopping
Whole-Home Continuous Cleaning
Equipped with a 2600mAh long-lasting battery, Tapo RV10 Plus provides 3 hours of continuous cleaning every full charge. The robot returns to the charging dock automatically when the battery gets low, and then restarts right where it left off.
3 Hours

Continuous Cleaning2
Moves Around the House Nimbly
A full suite of advanced sensors allow RV10 Plus to detect obstacles and avoid getting trapped or dropping off, while the soft-touch bumper protect your furniture.
7.9 cm / 3.1 in

Thin Enough to Slide In

Slides into hard-to-reach areas with ease thanks to its super-slim 7.85 cm / 3.09 in body.

Anti-Drop Protection

Multiple cliff sensors help it avoid falling down stairs and ledges.

2 cm

Climbs When Needed

Effortlessly climbs over doorsills and thick carpets under 2 cm / 0.79 in.7

Set Your Virtual Walls

Simply set up areas you don't want the robot to go with the magnetic tape.

*Sold separately.
Quiet Cleaning
Triple noise suppression lowers noise levels down to 53 dB while in use—quieter than a running microwave. Tapo cleans your home without disturbing you or your pets.3
Dynamic balance fan applied.

Noise reduction duct design proved by simulations.

Acoustic cotton equipped to absorb sound.
Speak to Clean
Pair with Amazon Alexa or Google Assistant to control the robot with simple voice commands. A series of Alexa custom skills are specially built for users to easily control how and when to start cleaning. Enjoy hands-free living.
"Alexa, ask Tapo to start cleaning the kitchen"
"Alexa, ask Tapo to vacuum after 8:30 am"
"Alexa, ask Tapo where it is"
Total Control at Your Fingertips with Tapo
Cleaning made simple. Manage your own cleaning schedule, switch cleaning modes, and monitor your robot's status at home or away on the feature-rich Tapo app.
Scheduled Cleaning

Switch Cleaning Modes

Check Status

Remote Control
1. Belső tesztelés alapján. A tényleges ürítési intervallumok a használat és a környezeti tényezők miatt változhatnak.
2. A gyártó által elvégzett belső tesztelés alapján, csendes porszívózási üzemmóddal, tele akkumulátorral. A tényleges eredmények a munkaállapottól és az otthoni környezettől függően változhatnak.
3. A gyártó által végzett belső tesztelés alapján, csendes porszívózási üzemmóddal. A tényleges eredmények a munkaállapottól függően változhatnak.
4. A gyártó által az IEST-RP-CC021.4-2016 szabvány szerint végzett belső tesztelés alapján.
5. A nem hivatalosan kijelölt padlótisztító hozzáadása a víztartály szerkezeti károsodását okozhatja.
6. A gyártó által végzett belső tesztelés alapján, alacsony vízáramlással, teli akkumulátorral. A tényleges eredmények az otthoni környezettől függően változhatnak.
7. Az átkelés magassága csökken, ha fel van szerelve a felmosórongy-tartóval.
Walk You Through Setup Step by Step
Download and open Tapo App

Tap Plus (+) to add your smart device

Look for your device and connect

Name the device and choose the room it's in

Congratulations! You've now completed the configuration
Watch the whole setup process in the whole
How to Clean Up the Dust Channel: Tapo RV10 Plus

Tapo RV10 Plus

How to Clean the Caster Wheel: Tapo RV10 Plus

Tapo RV10 Plus

How to Set Up Your Tapo Robot Vacuum & Mop + Smart Auto-Empty Dock: Tapo RV10 Plus

Tapo RV10 Plus

How to Clean Main Wheels: Tapo RV10 Plus

Tapo RV10 Plus

How to Clean Charging Contacts: Tapo RV10 Plus

Tapo RV10 Plus

How to Clean Sensors: Tapo RV10 Plus

Tapo RV10 Plus

How to Clean the Mop Cloth: Tapo RV10 Plus

Tapo RV10 Plus

How to Clean the Filter: Tapo RV10 Plus

Tapo RV10 Plus

How to Clean the Side Brush: Tapo RV10 Plus

Tapo RV10 Plus

How to Clean the Main Brush: Tapo RV10 Plus

Tapo RV10 Plus

How to Replace the Dust Bag: Tapo RV10 Plus

Tapo RV10 Plus

How to Empty the Dustbin: Tapo RV10 Plus

Tapo RV10 Plus

How to Install Mop Cloth Mount and Fill in Water Tank: Tapo RV10 Plus

Tapo RV10 Plus
Specifications
Mapping & Navigation Features
Mapping/Path Planning:
Gyroscope
Obstacle Avoidance:
Infrared
Barrier-Cross Height :
20 mm/0.79 in
Anti-Drop Protection :
Yes
Dock Features
Auto Dust Collection:
Yes
Suction Power of Auto-Empty Dock:
27000Pa
Vacuuming Features
Max Suction Power:
2000Pa
Suction Level Adjustment:
4 levels
Noise:
53 dB (Quiet Mode)55 dB (Default/Standard)
Mopping Features
Mopping Type:
Electric Water Flow Control 
Water Level Adjustment:
3 levels
Water Tank Capacity:
300 ml
Battery
Battery Capacity :
2600 mAh
PHYSICAL
Product Dimensions:
Robot Vacuum: 341 × 341 × 79 mm (13.4 × 13.4 × 3.1 in)Auto-Empty Dock: 225.5 × 194 × 381.3 mm (8.9 × 7.6 × 15 in)
Package Contents:
Robot Vacuum Cleaner ×1Auto-Empty Dock ×1Mop Cloth Mount ×1Quick Installation GuideWashable Mop Cloth ×14L Disposable Dust Bag ×2Side Brush ×2HEPA Filter ×2Cleaning Brush ×1
Egyéb jellemzők
Wireless Connection:
IEEE 802.11 b/g/n, 2.4 GHz band only Bluetooth 4.2 (only for onboarding)
Rated Input Voltage:
220-240 VAC, 50Hz
Max Charging Power Consumption:
16.8W(DC16.8V 1A)
Max Working Power Consumption:
Robot Vacuum: 25WAuto-Empty Dock: 950W
Works with Google Home:
Yes
Works with Amazon Alexa:
Yes