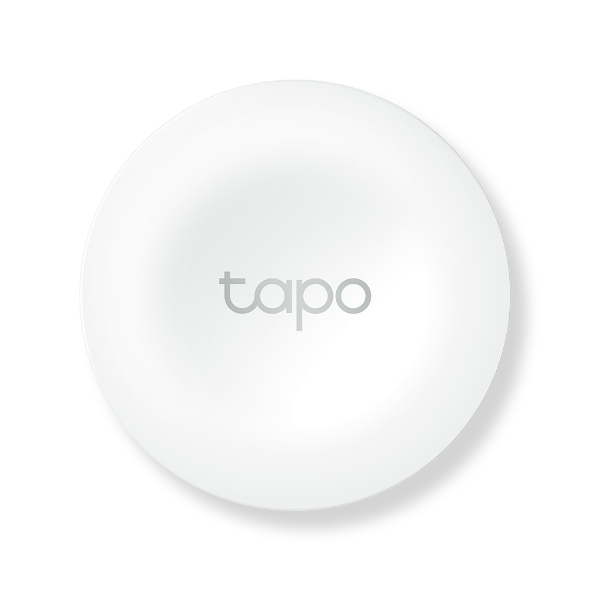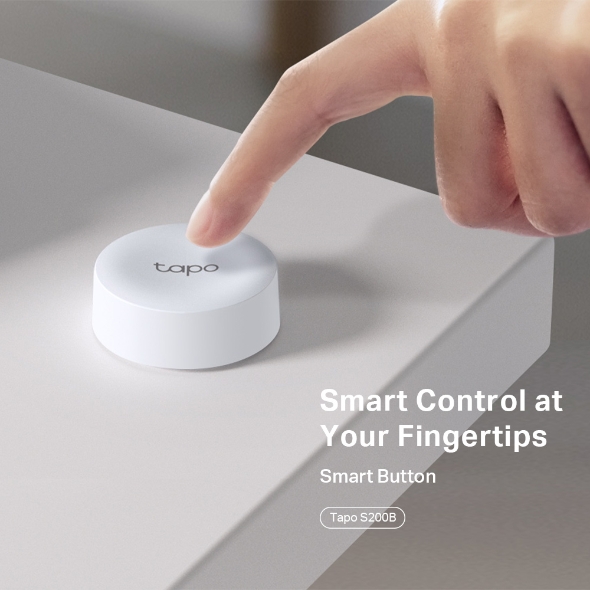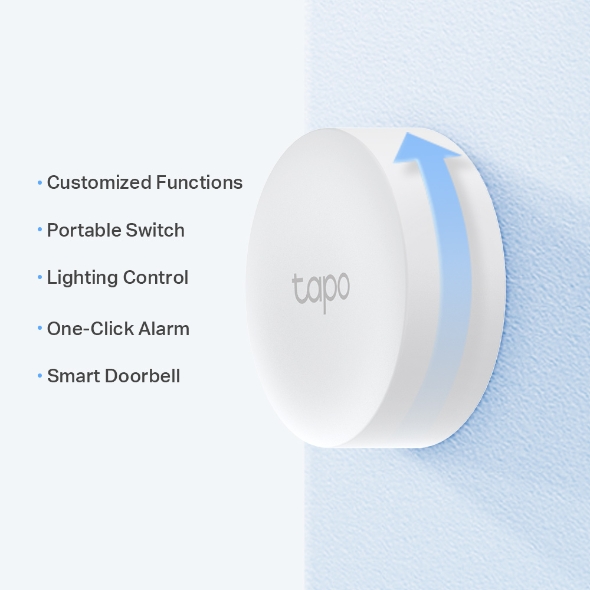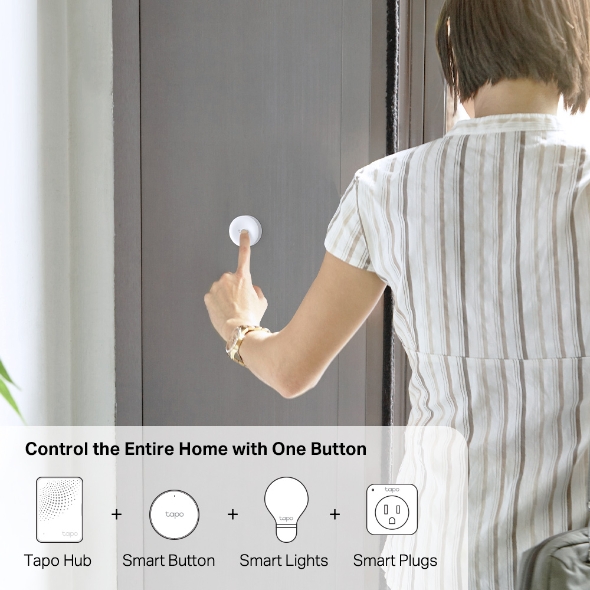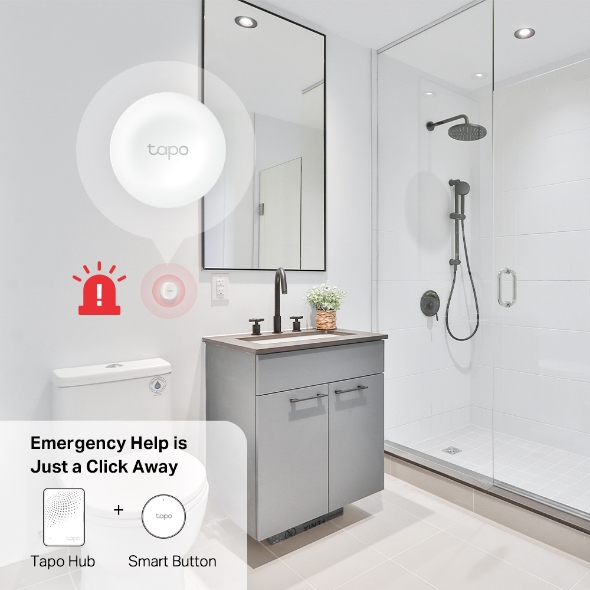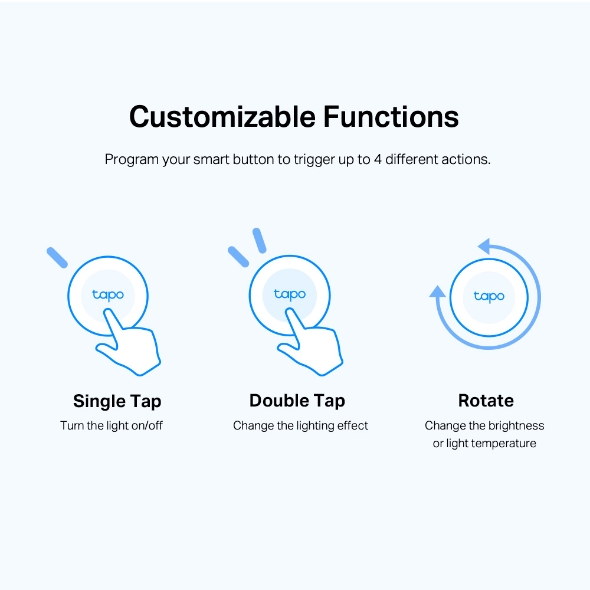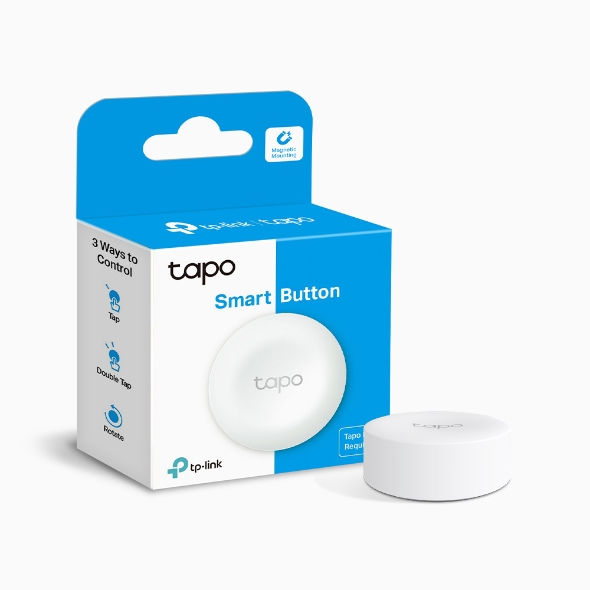 Intelligens műveletek – Vezéreljen és állítson be több lámpát és más Tapo okoseszközt a gombbal.
Testreszabott műveletek – Az egyszeri, dupla koppintással és a forgatási opciókkal több műveletet is elindíthat egyetlen gombbal.
Egykattintásos riasztás – A családtagok használhatják az eszközt, hogy segítséget kapjanak szükség esetén.
Vezérlés több helyről – Vezérelje a Tapo eszközeit több helyről az intelligens gombbal.
Hosszú akkumulátor-élettartam – Az akkumulátor több mint egy évig bírja.
Intelligens vezérlés a keze ügyében
Intelligens gomb
Tapo S200B
Testreszabott funkciók
Hordozható kapcsoló
Világításvezérlés
Egykattintásos riasztás
Okos csengő
Intelligens vezérlés egyetlen gombnyomással
Ne fáradjon egy alkalmazás megnyitásával vagy a hangsegéddel. Csak kattintson a gomb, és élvezze az intelligens lámpák vezérlésének gyorsabb és egyszerűbb módját. Helyezzen el két vagy több gomb különböző helyekre, így a világításvezérlő mindig elérhető.
Tapo Hub
Okos gomb
Világítás
Irányítsd az egész otthont egyetlen gombbal
Párosítsa az összes Tapo lámpáját és eszközét egyetlen gombbal az egyszerű és praktikus vezérlés érdekében. Ha útközben van, aktiválja a Távolléti módot egy kattintással az összes csatlakoztatott eszköz kikapcsolásához.
Tapo Hub
Okos Gomb
Világítás
Konnektor
A biztonsága
A sürgős segítség csak egy kattintásnyira van. Telepítse a Tapo Smart Buttont kád, WC vagy ágy mellé, hogy mindig kéznél legyen.
Testreszabható funkciók
Programozza be intelligens gombját, hogy akár 4 különböző műveletet indítson el egyetlen koppintással, dupla koppintással és forgó vezérlőkkel.
Egy érintés

Kapcsolja be/ki a lámpát

Dupla érintés

Módosítsa a fényhatást

Forgás

Módosítsa a fényerőt vagy a fényhőmérsékletet
Rugalmas rögzítés
Telepítse bárhol otthonában gyorsan és egyszerűen. Helyezze asztalra vagy éjjeliszekrényre, rögzítse a falra a mellékelt ragasztókkal, vagy rögzítse bármilyen mágnessel fémfelületre.
Hosszan tartó

teljesítmény

A Tapo Smart Button rendkívül alacsony fogyasztású vezeték nélküli protokollt és cserélhető CR2032 gombelemet használ, hogy évekig intelligens vezérlést biztosítson.
*A modellek megjelenése nincs meghatározva, és ennek megfelelően frissül. Kérjük, a termékképeket csak referenciaként használja.
**Egyes funkciók szoftverfrissítést vagy előfizetést igényelhetnek.
Walk You Through Setup Step by Step
Download and open Tapo App

Tap Plus (+) to add your smart device

Look for your device and connect

Name the device and choose the room it's in

Congratulations! You've now completed the configuration
Specifications
Hálózat
Standards and Protocols:
868Mhz / 922MHz
Rendszerkövetelmény:
iOS 10+, Android 5.0+
Általános
Operating Temperature:
0~40°C
Méret (Ma x Sz x Mé):
Φ43.5 x 16.9 mm
Power Requirements:
CR2032 Battery
Csomagolás tartalma
· Tapo S200B· CR2032 Battery· Mounting Template· Anti-slip Tape· Double-sided Tape· Quick Start Guide