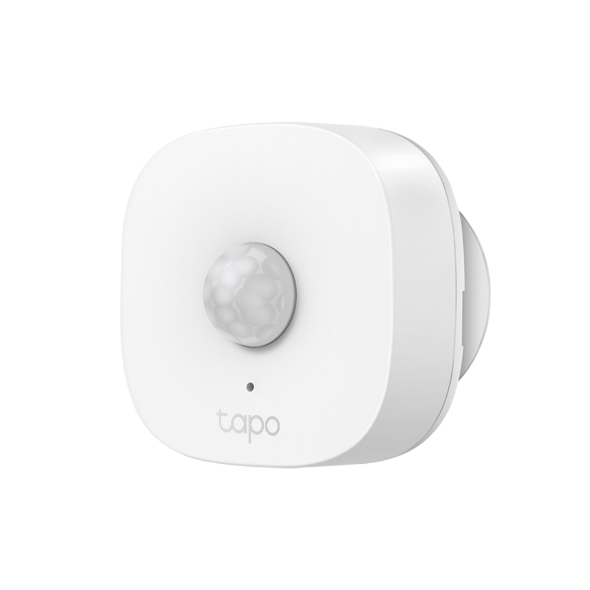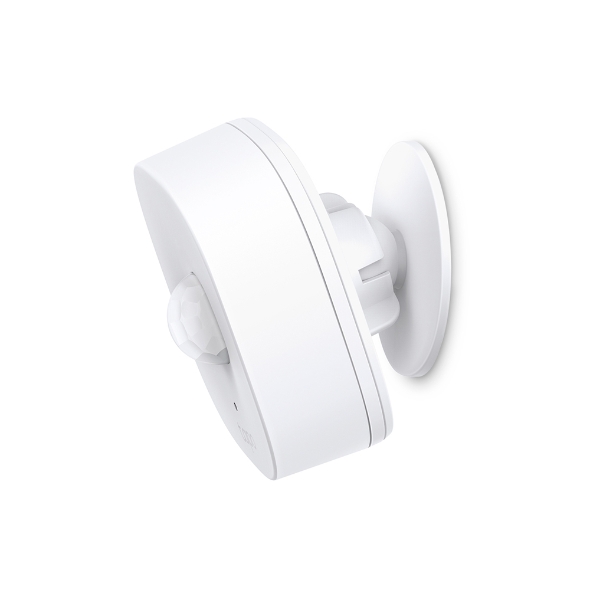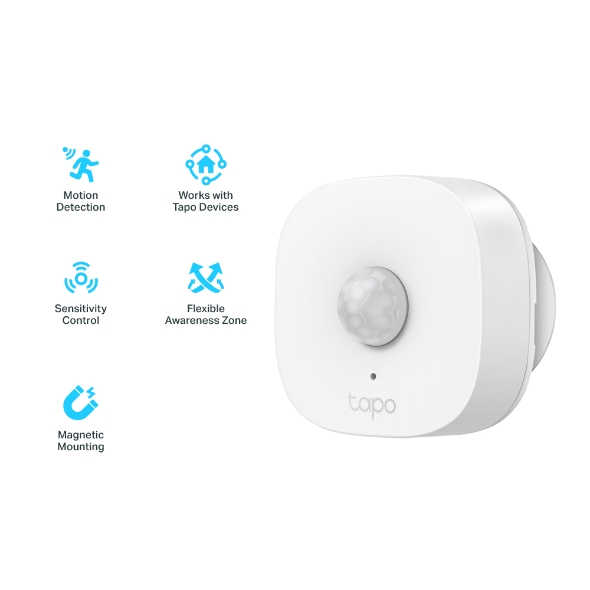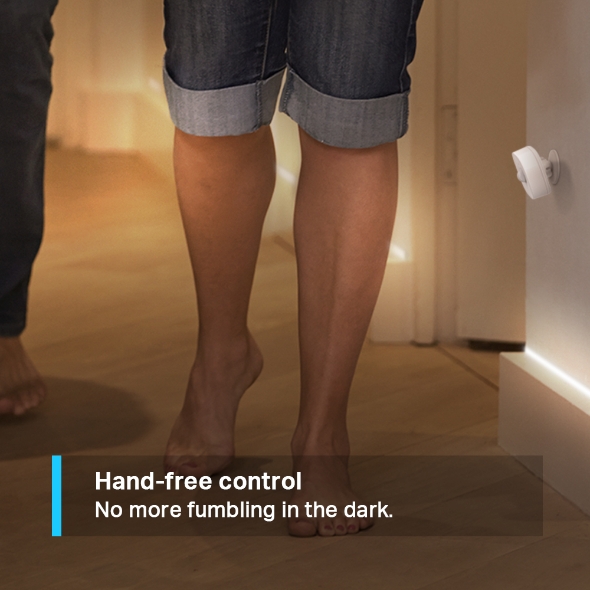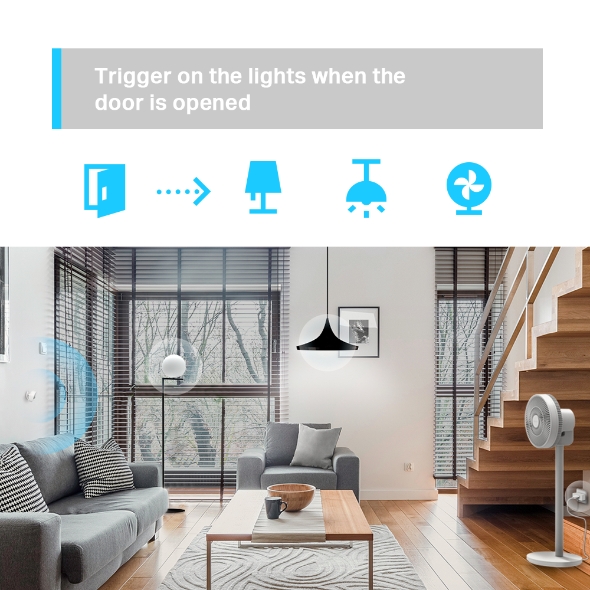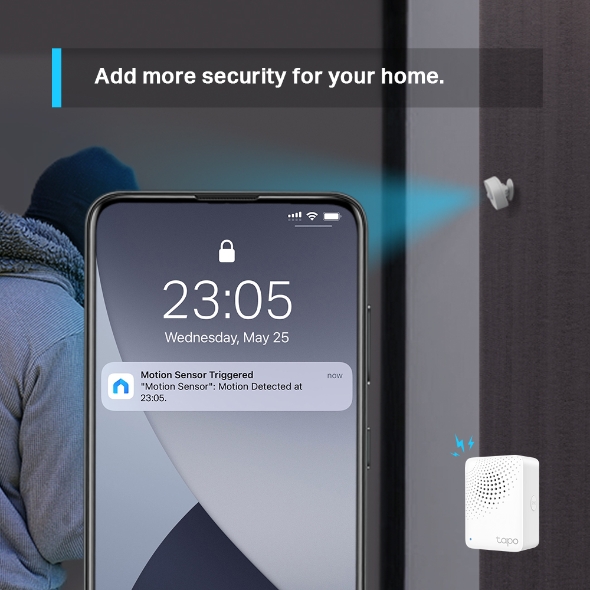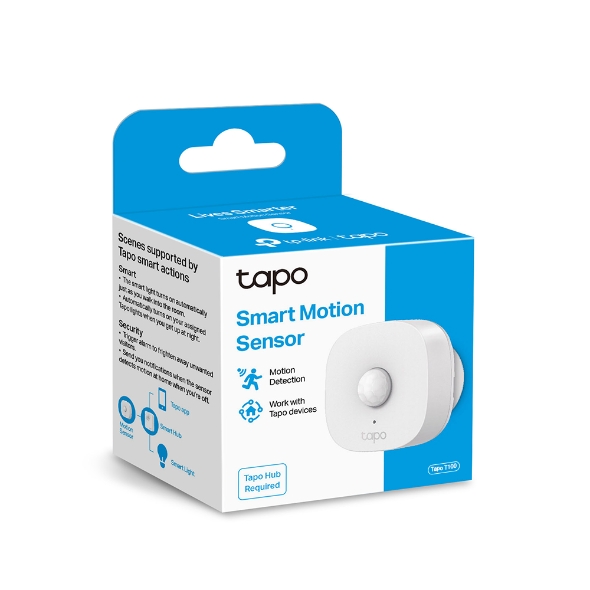 Tapo Okos Mozgásérzékelő
Tapo T100
Széles hatótávú érzékelés – Mozgást érzékel akár 7 méteres távolságból és 120°-os szögben.
Mozgásvezérelt világítás – Vezérelje az intelligens lámpákat mozgásra vagy ütemezése alapján.
Energiatakarékosság – A csatlakoztatott intelligens eszközök automatikus bekapcsolása, amikor mozgást érzékel.
Azonnali figyelmeztetések és alkalmazásértesítések – Távolléti módban figyelmeztet mindenre, amit tudni szeretne.
Akkumulátoros – A kompakt, akkumulátoros kialakítás több mint egy éves használatot tesz lehetővé.
Egyszerű telepítés – Rögzítse a 3M ragasztóval vagy a mellékelt mágnesekkel.
Intelligens mozgásérzékelő
Világítson ki
minden szobát
ahová belép
Tapo T100
Mozgásérzékelés

Tapo eszközökkel működik

Érzékenység szabályozás

Rugalmas elhelyezés

Mágneses rögzítés
Automatikus vezérlés
Nincs több babrálás a sötétben. A folyosó vagy a hálószoba világítása automatikusan felgyullad, amikor elhalad az érzékelő mellett, anélkül, hogy fel kellene kapcsolania egy kapcsolót.
Mozgásvezérlés az egész helyiségben
Hozzon létre egy intelligens műveletet okoseszközeinek automatizálásához, és mindegyiket mozgással aktiválja. Szabja személyre saját intelligens műveleteit, hogy tetszőleges módon csoportosítsa Tapo termékeit.
Őrizze otthonát, amíg távol van
A mozgásérzékelő riasztást indíthat el, hogy elrettentse a behatolókat, ha valami nem stimmel, amikor Ön nincs otthon. Értesítést kap a telefonján, amint mozgást észlel.
*A Tapo Hub külön vásárolható meg.
Állítható érzékenység
Az érzékelő akár 7 méter távolságból is rögzíti a mozgást 120°-os látómezővel. Állítsa be az érzékenységet 3 különböző szintre az észlelési lefedettség személyre szabásához és a hamis triggerek kiszűréséhez.
Rugalmas érzékelési szög
Szabadon forgassa el az érzékelőt az ideális szögbe, és állítsa be az érzékelési zónát, hogy elkerülje a szőrmebabái véletlen aktiválását.
Hosszan tartó teljesítmény
A 2 éves akkumulátor-élettartam hosszú élettartamot biztosít. *
*A napi 50 aktiválási tesztünk alapján összesen 25 000 aktiválás.
Sokoldalú rögzítési lehetőségek
Telepítse az érzékelőt bárhol otthonában gyorsan és egyszerűen. Akár polcon, akár falon, akár mennyezeten, a mellékelt ragasztó elvégzi a munkát. Ráadásul a kiegészítő mágneses rögzítés még nagyobb rugalmasságot biztosít.
Minden egy alkalmazásban
Tapasztalja meg új szintű intelligens otthonát a Tapo termékcsaláddal egyetlen alkalmazásban. Hozzon létre egy biztonságosabb, kényelmesebb és kényelmesebb életteret magának és szeretteinek.
*A modellek megjelenése nincs meghatározva, és ennek megfelelően frissül. Kérjük, a termékképeket csak referenciaként használja.
**Egyes funkciók szoftverfrissítést vagy előfizetést igényelhetnek.
Walk You Through Setup Step by Step
Download and open Tapo App

Tap Plus (+) to add your smart device

Look for your device and connect

Name the device and choose the room it's in

Congratulations! You've now completed the configuration
Specifications
Általános
Operating Temperature:
0~40°C
Méret (Ma x Sz x Mé):
42.3 x 42.3 x 34 mm
Power Requirements:
CR2450 Battery
Csomagolás tartalma
Tapo T100Quick Start GuideBattery CR2450 x 13M adhensive
TECHNICAL SPECIFICATIONS
Wireless:
868 MHz / 922 MHz
Detection Distance:
Max 7 m / 23 ft.