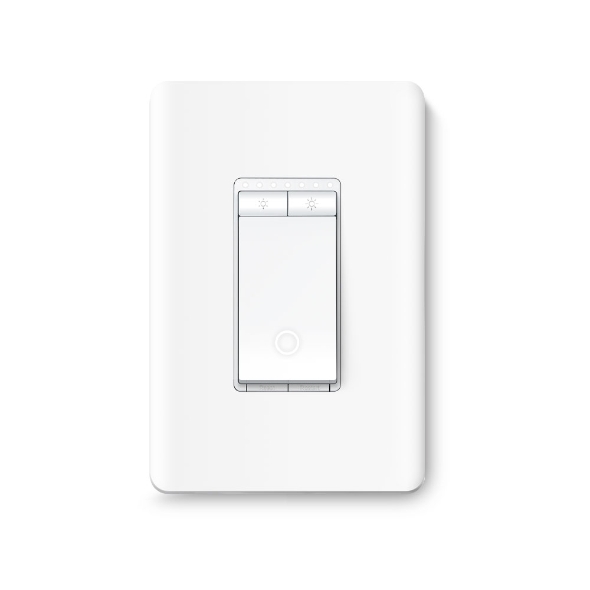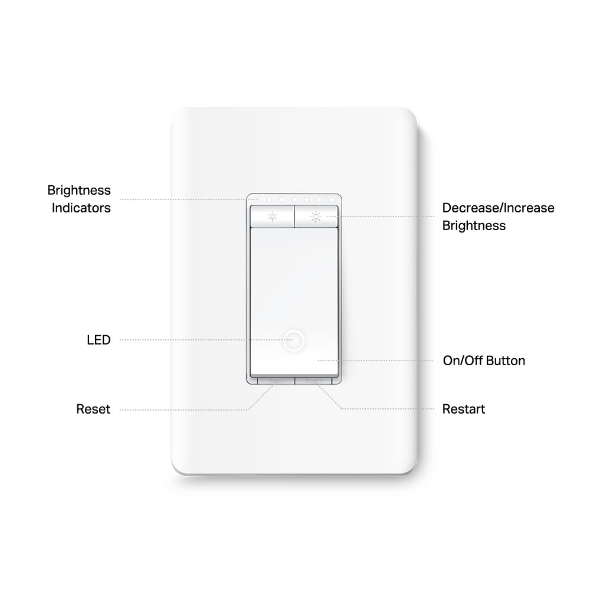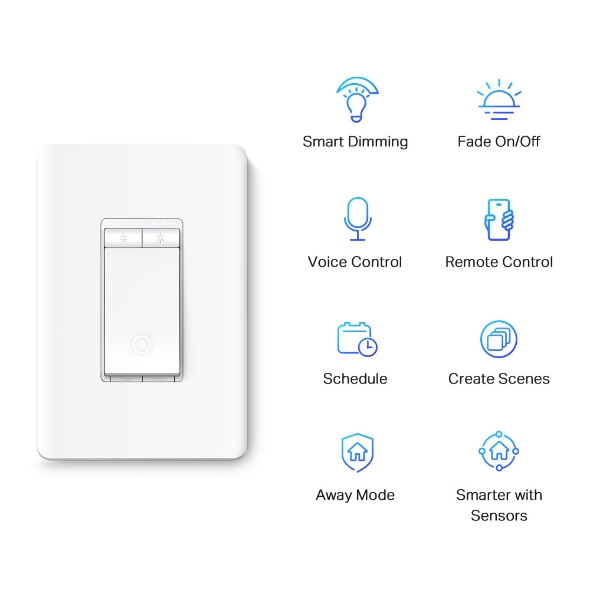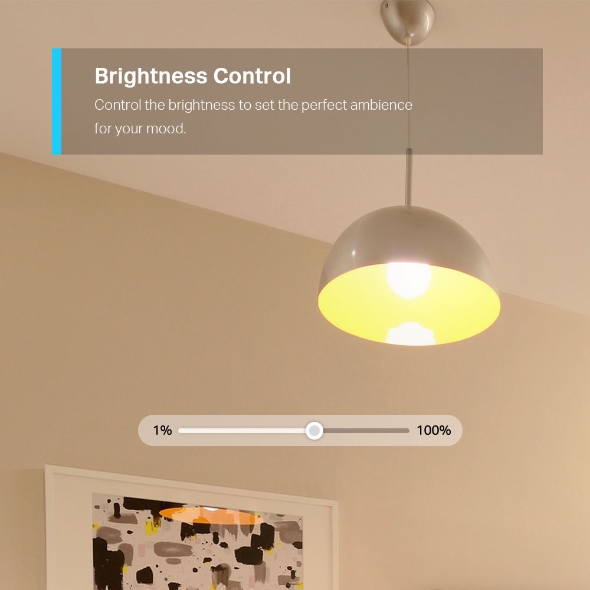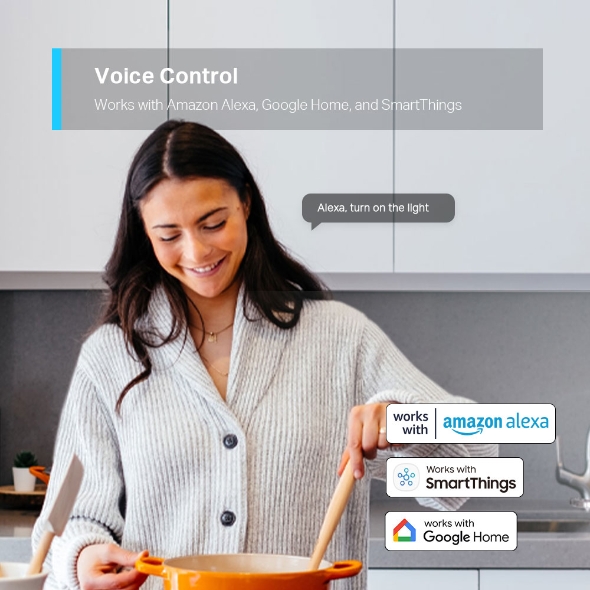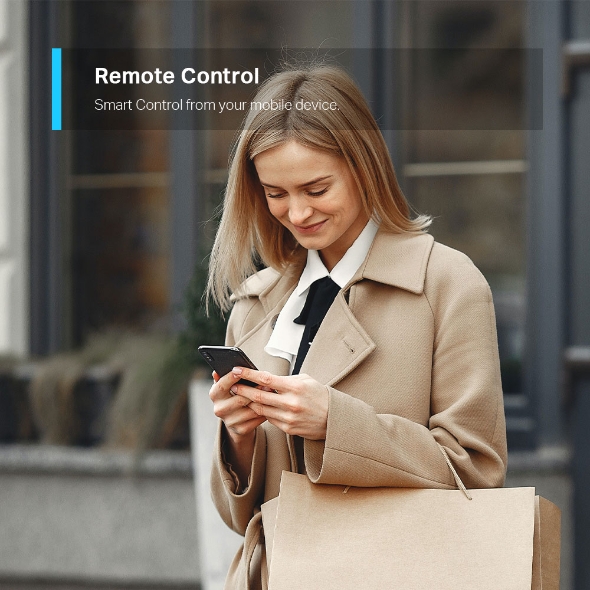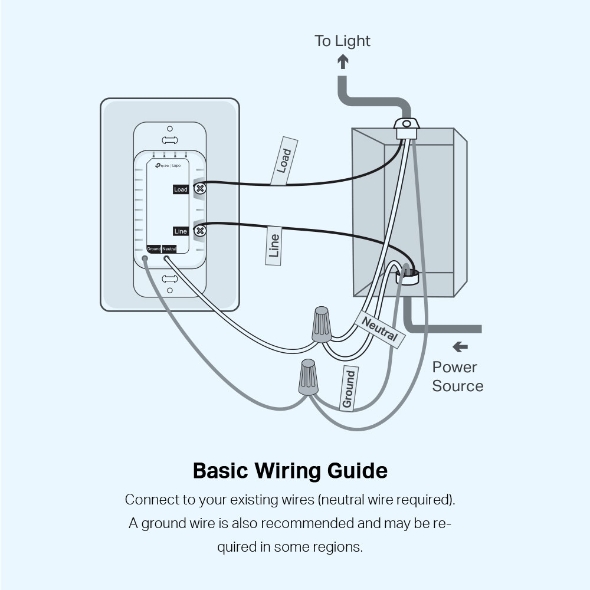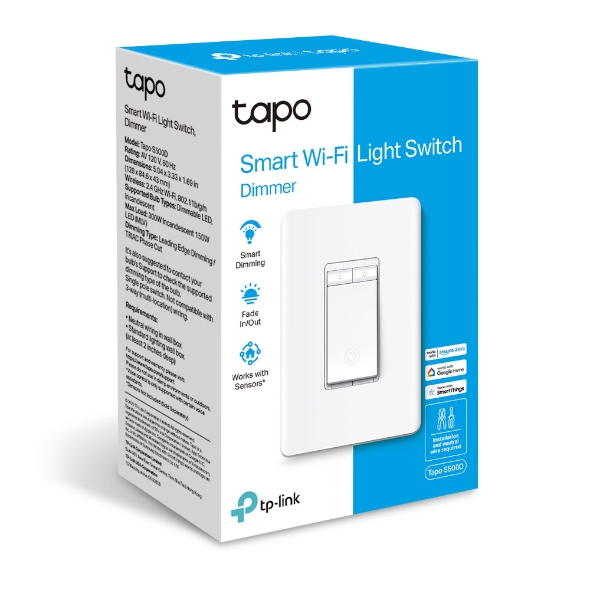 Smart Wi-Fi Light Switch, Dimmer
Tapo S500D
Brightness Control – Control the brightness of your lights to set the perfect ambiance for any activity.
Fade On/Off – Smoothly illuminate or dim your lights with the Fade On/Off feature, allowing your eyes to adjust to the new lighting level.
Voice Control – Manage your smart switch with simple voice commands via Amazon Alexa, Google Assistant, or Samsung Bixby.
Remote Control – Instantly turn connected devices on/off from wherever you are through the Tapo app.
Schedule – Preset a schedule to automatically manage devices.
Away Mode – Randomly turns devices on and off at different times to give the appearance that someone is home.
Smarter with Sensors1 – Create Smart Actions triggered by Tapo smart sensors for greater automation.
Customize Lighting
Ambience from Anywhere
Smart Wi-Fi Light Switch Dimmer
Tapo S500D
Smart Dimming

Fade On/Off

Voice Control

Remote Control

Schedule

Create Scenes

Away Mode

Smarter with Sensors
Brightness Control
Control the brightness of lights in any room and set the ambience for any activity. Designed to dim today's energy efficient LEDs as well as traditional incandescent bulbs.
*The actual lighting effect varies according to the connected lights.
Fade On/Off
Smart dimmer switches smoothly adjust lighting levels without sudden eye-irritating brightness or darkness. Fade off the lights in your child's bedroom as they drift off to sleep.
Control from Anywhere
Control the lighting ambience of your home spaces from anywhere, at any time using the Tapo app.
Local Control
Your connected devices at home remain accessible via the Tapo app even when the household goes offline.
Voice Control
Use simple voice commands to turn on/off your connected devices
or set lighting levels via Alexa or Google Assistant supported devices.
Alexa, dim the living room light to 50%.
Smarter with Sensors1
Effortlessly control your lights by setting automation or scenes triggered by Tapo smart sensors.
Tapo Hub
Tapo Sensor
Tapo S500D
1. Tapo Smart Sensors are sold separately. When working with smart sensors, the Tapo Hub is required.
More Versatile with a Tapo Smart Button2
Pair with a Tapo Smart Button to turn your single-pole dimmer switch into a 3-way or even 4-way dimmer switch without rewiring.
Tapo Hub
Tapo Button
Tapo S500D
2. Tapo S500D is a Single Pole dimmer switch and not compatible with 3-way wiring. Tapo Smart Buttons are sold separately. When working with a Tapo Smart Button, the Tapo Hub is required.
Group & Scenes

Group your smart switch with other Tapo devices to turn them all on or off with one click or choose a custom preset with scenes.

Scheduling

Use Schedules to set your smart switch to automatically turn on and off.

Hallway Light On at 18:00

Away Mode

Automatically turn on and off connected appliances, like lights, to make it appear as if you're home.
Easy to Install
Turn off the circuit breaker.
Then remove the old wallplate of the wall switch and label the Ground and Neutral wires.
Then disconnect the wires from the old switch.

Turn on the circuit breaker.
Use a voltage detector to identify the energized wire (Line wire).
Then turn off the circuit breaker. Label the Line and Load wires.

Take care to avoid electric shocks.

Line wire

Load wire

Connect the wires to the smart dimmer switch as shown below.

To Light

Power Source
Ground:

Usually green or copper.

Neutral:

Usually white, and not connected to the dumb switch.

Line:

Usually black and coming from the circuit breaker.

Load:

Usually black. One end is connected to the light.

If you are unsure, consult a qualified electrician.
Walk You Through Setup Step by Step
Download and open Tapo App

Tap Plus (+) to add your smart device

Look for your device and connect

Name the device and choose the room it's in

Congratulations! You've now completed the configuration
Specifications
NETWORK
Protocol:
IEEE 802.11b/g/n
Wireless Type:
2.4 GHz Wi-Fi
GENERAL
Certification:
FCC, UL, RoHS
Operating Temperature:
0~40℃
Package Contents:
Tapo S505D × 1, Wall Plate × 1, Wire Label × 1, Wire Nuts × 4, Screws × 2, Quick Start Guide
Dimensions( H X W X D ):
5.04 x 3.33 x 1.69 in (128 x 84.6 x 43 mm)
Buttons:
Brightness Indicators, LED indicator, Decrease/Increase Brightness Buttons, On/Off Button, Restart Button, Reset Button
TECHNICAL SPECIFICATIONS
Dimmable:
Dimming Type: Leading Edge Dimming/ TRIAC Phase Cut *It's also suggested to contact your bulbs' Support to check the supported dimming type of your bulbs. Supported Bulb Types: Dimmable LED, Incandescent
Max Load:
300 W Incandescent,150 W LED(MLV)