Monitor Inteligente de Temperatura & Humidade
|
Tapo T315 V1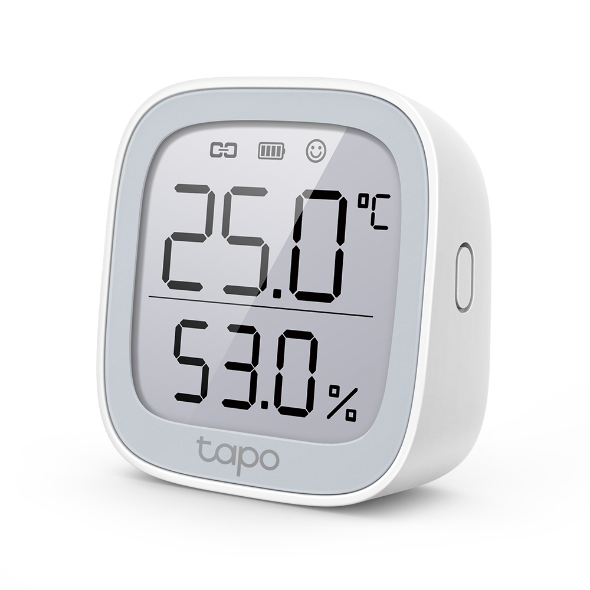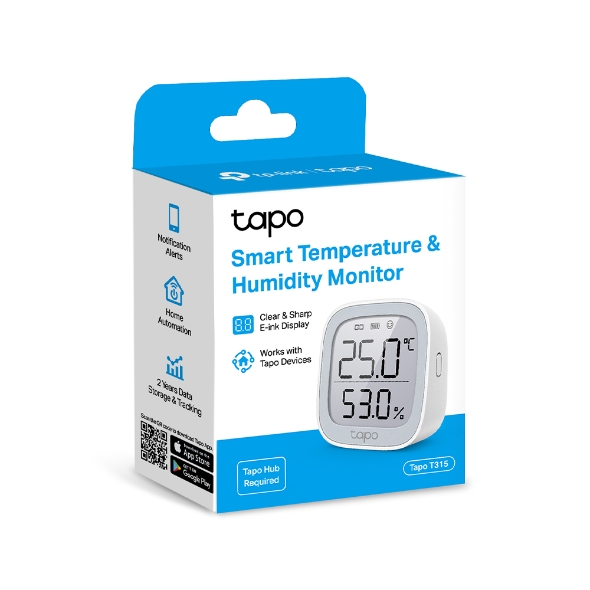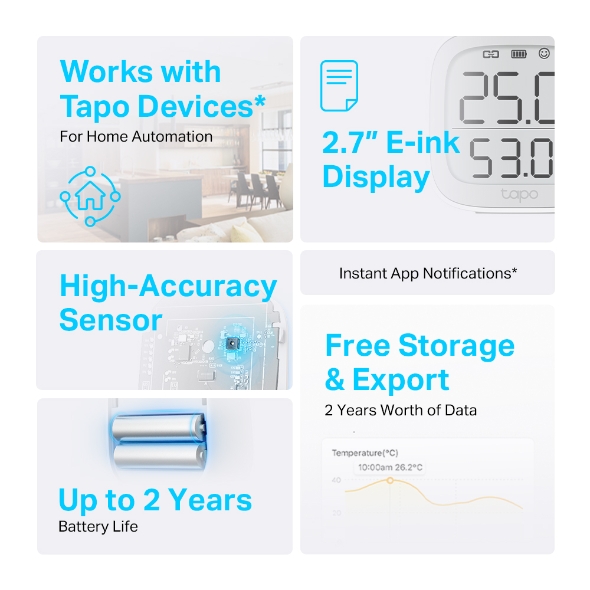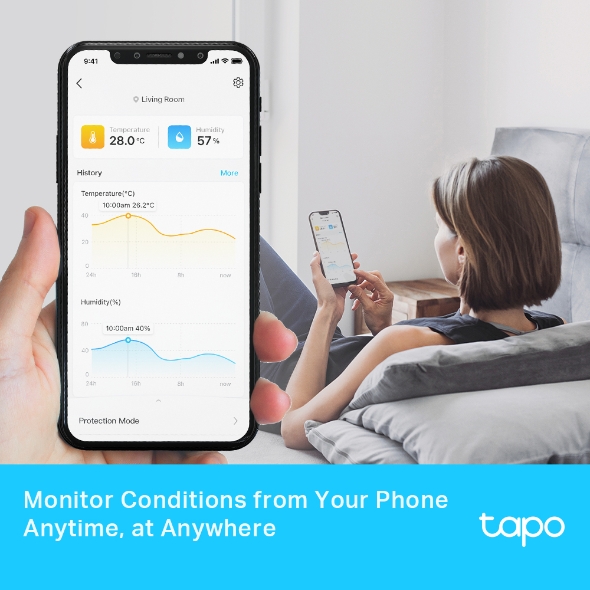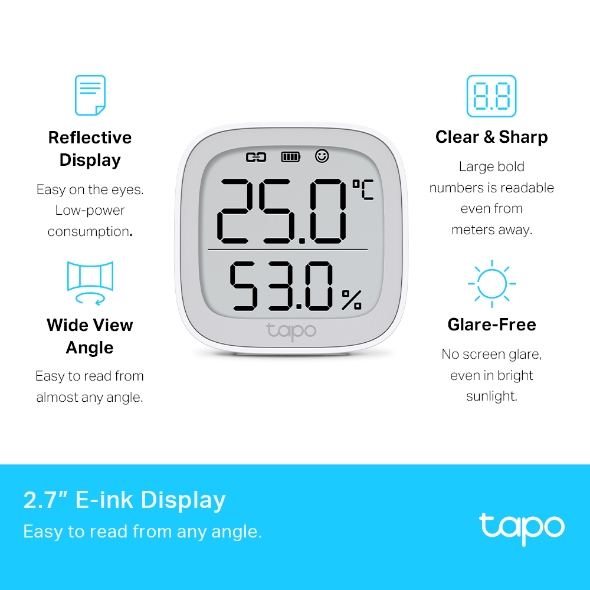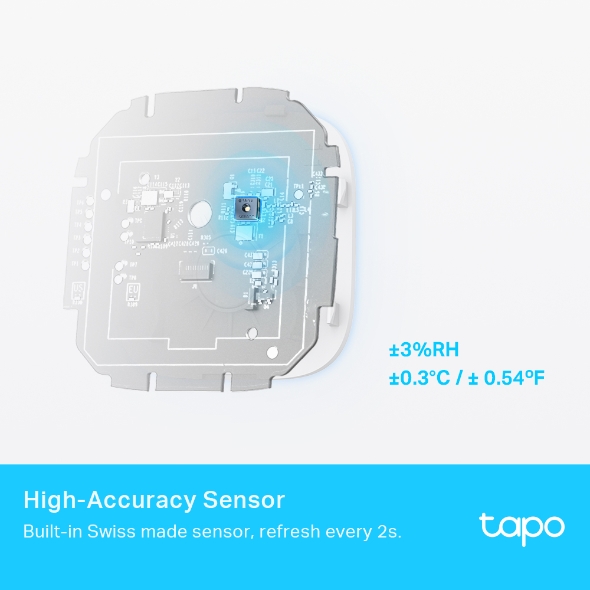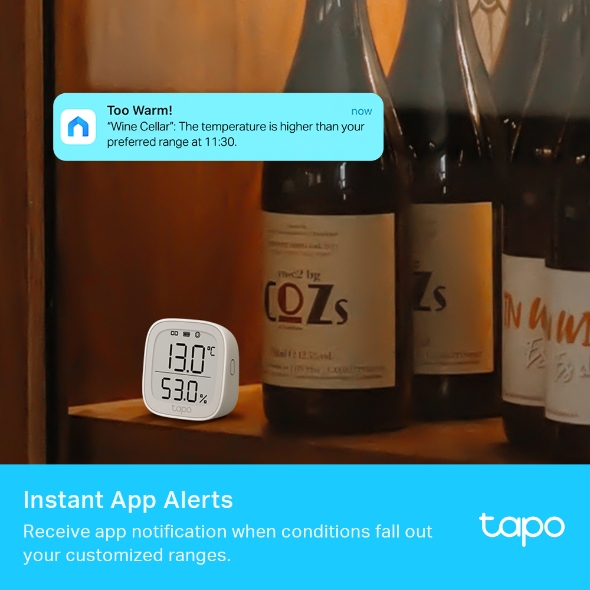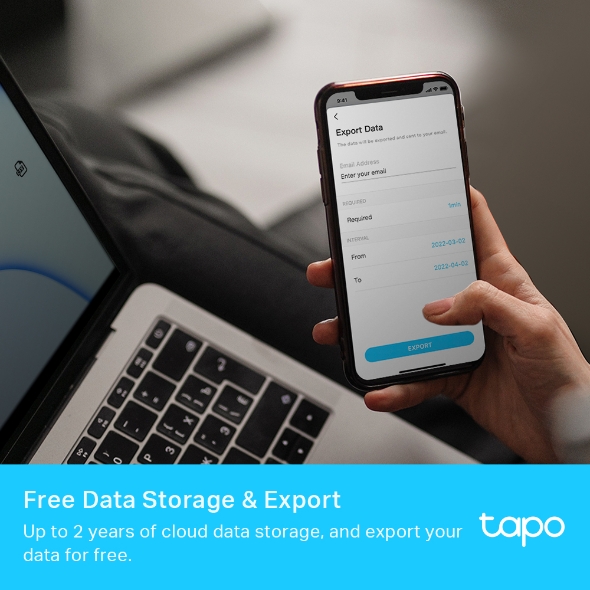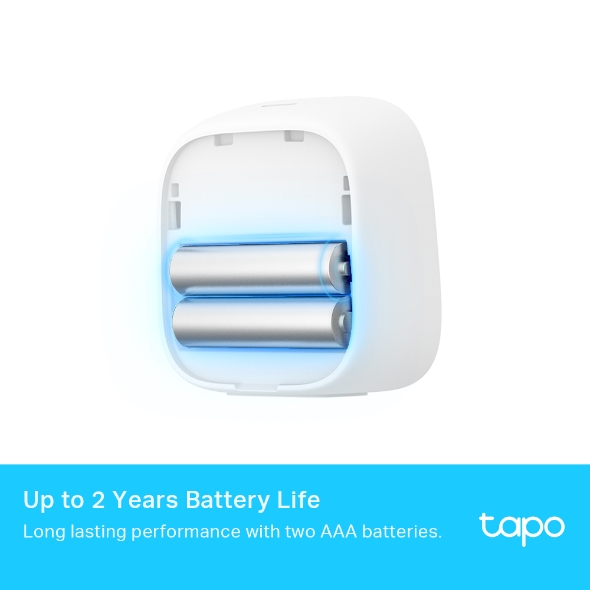 Monitor Inteligente de Temperatura & Humidade
Tapo T315
Monitorização Precisa em Tempo Real - Deteta a temperatura e humidade em tempo real com grande precisão. (Precisão de medição: ±0,54 ºF, ±3% RH).
Visor E-ink de 2,7" - Indica temperatura e humidade, nível de conforto com expressões faciais, estado da bateria, e sinal.
Automação Doméstica - Liga/desliga automaticamente a equipamentos domésticos com interface Tapo (por exemplo, aquecedor, ventoinha, humidificador e mais) para maximizar a conforto e poupar energia.
Notificações Instantânea na Aplicação - Receber notificação de alerta quando as condições estão fora do intervalo pré-definido.
Armazenamento dos Dados e Gráficos Gratuito - Registar dados de temperatura e humidade e gerar resumo de dados cíclicos.
Instalação Flexível - Basta colocá-la sobre a secretária ou montá-la na parede.
Hub Tapo Necessário - O Tapo Hub é necessário para suportar características inteligentes, como monitorização remota, automação doméstica, exportação de dados e muito mais.
Sensor Inteligente de Temperatura e Humidade
Mais Conforto
no seu Lar
Tapo T315
Works with Tapo Devices*
For Home Automation
Up to 2 Years
Battery Life
Instant App Notifications*
Free Storage & Export
2 Years Worth of Data
*Tapo Hub is required.
2.7″ E-ink Display, reads like real paper.
Look at this.
Reflective Display

Easy on the eyes.
Low-power consumption.

Clear & Sharp

Large bold numbers is readable even from meters away.

Wide View Angle

Easy to read from almost any angle.

Glare-Free

No screen glare, even in bright sunlight.
High-Accuracy Sensor
The built-in Swiss-made sensor features a typical accuracy of ±3%RH, ±0.3°C / 0.54°F. By obtaining and updating data every 2 seconds, the sensor gives you accurate current information.
±3%RH
±0.3°C / ± 0.54ºF
Humidity Range: 0%~99%RH
Temperature Range: -20~60ºC / -4~140ºF
* The E-ink screen only displays temperature from 0 to 50°C (32 to 122°F). If the readings go beyond the display range, you can check the temperature on the Tapo app.
Instant App Alerts
Receive instant app notifications when temperature or humidity levels fall outside your customized ranges. React promptly to sudden air condition changes whenever the need arises.
"Wine Cellar": The temperature is higher than your preferred range at 11:30.
Maximize Comfort & Save Energy
The sensor automatically turns on/off appliances connected to Tapo devices, such as heaters, fans, and humidifiers, to adjust the comfort level in the room. It also helps to save on your energy bills.
Tapo Hub
Temp & Humidity Monitor
Smart Plug
Lower 16℃
Heater On
Higher 21℃
Heater Off
2-Year Data Storage & Export for Free
Understand your home environment with up to 2 years of cloud data logging and storage. Export all the data to a CSV file sent to your email to review at anytime.
Long-Lasting Performance
The Tapo Smart Temperature and Humidity Monitor uses two AAA batteries and lasts for up to 2 years.*
*Battery life of up to 2 years is based on TP-Link's laboratory results under normal use. Actual battery life may vary depending on working conditions.
Switch display unit and position with ease.
Display as You Like
Press the side button once to switch the temperature unit. Double press to switch the display position of temperature and humidity.
Comfort Level Indicator
Keep an eye on your home's comfort levels at a glance. You can also customize your comfort zones in the Tapo app.
Flexible Placement
Place your monitor anywhere in your home quick and easy. Sit it on a table or shelf, stick it to a wall with the included adhesive, or attach it to any metallic surface.
Cigar Humidor

Reptile Tank

Green House

Instruments

Storeroom

Baby Room

Office

Kitchen
Acompanhe a configuração passo a passo
Download and open Tapo App

Tap Plus (+) to add your smart device

Look for your device and connect

Name the device and choose the room it's in

Congratulations! You've now completed the configuration
Specifications
GERAL
Operating Temperature:
-20~60ºC / -4~140ºF (Temperature Display Range: 0~50ºC / 32~122ºF)
Operating Humidity:
0%~99%RH
Dimensions( H X W X D ):
62 × 62 × 24.5 mm
Power Requirements:
3.0V DC (2 × AAA/LR03)
Conteúdo da embalagem
Package Contents:
Tapo T315 × 1AAA/LR03 battery × 23M Adhesive × 1Quick Start Guide × 1
TECHNICAL SPECIFICATIONS
Temperature Accuracy:
±0.3°C /±0.54°F