Monitor de Temperatura e Humidade Tapo Inteligente
|
Tapo T310 V1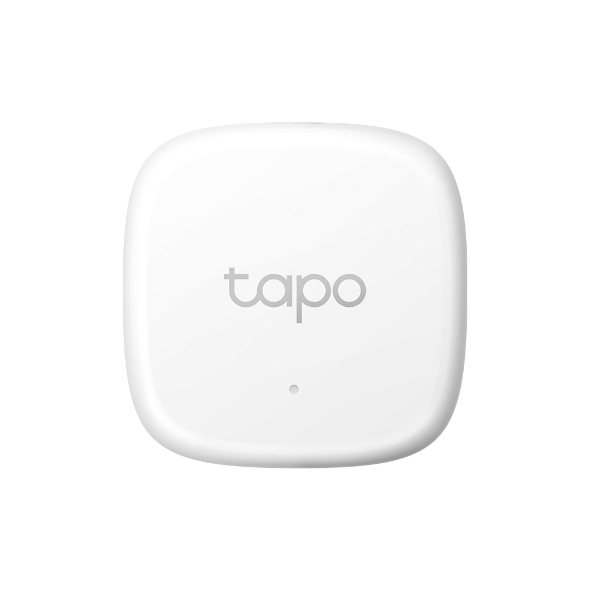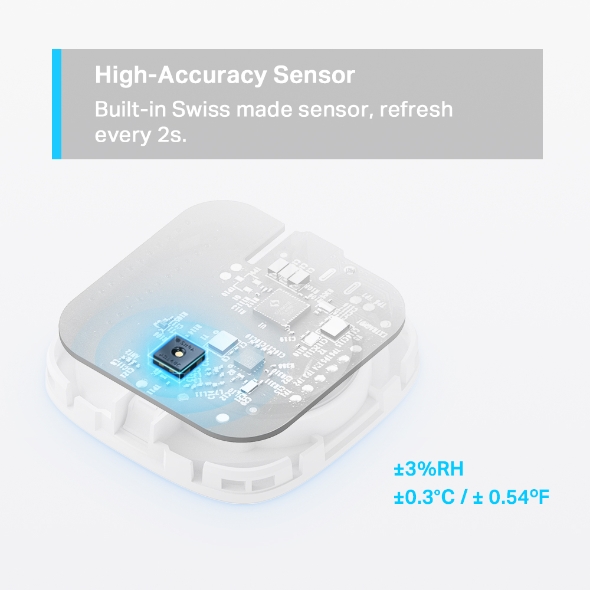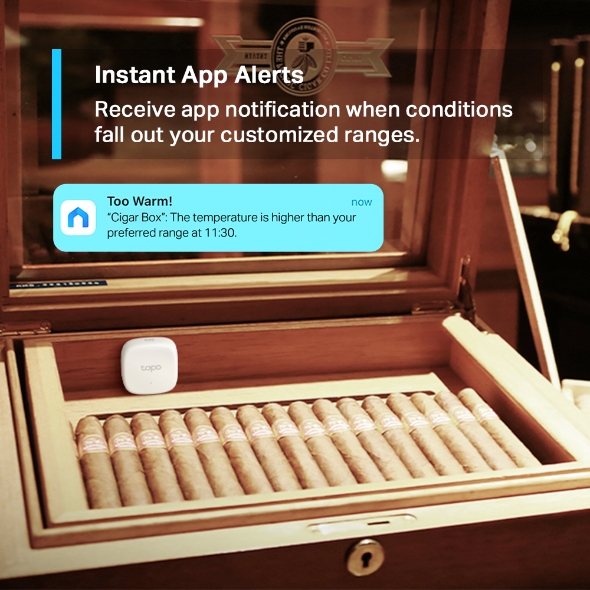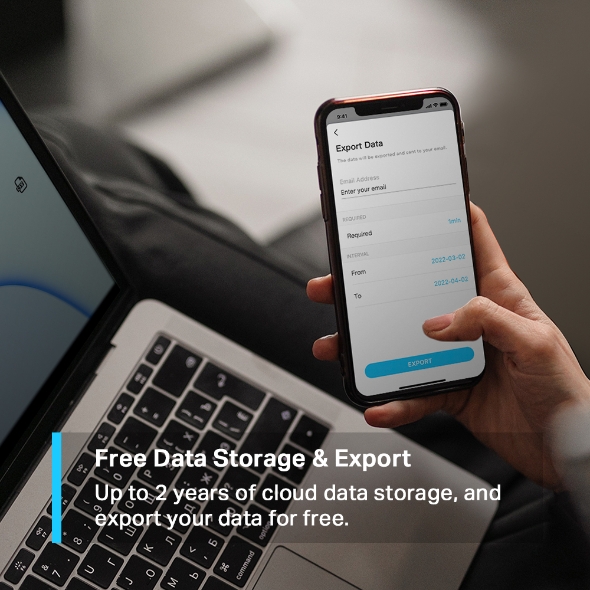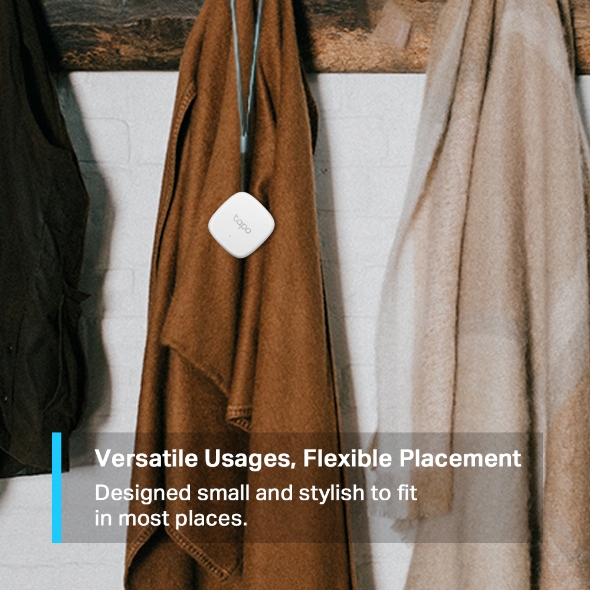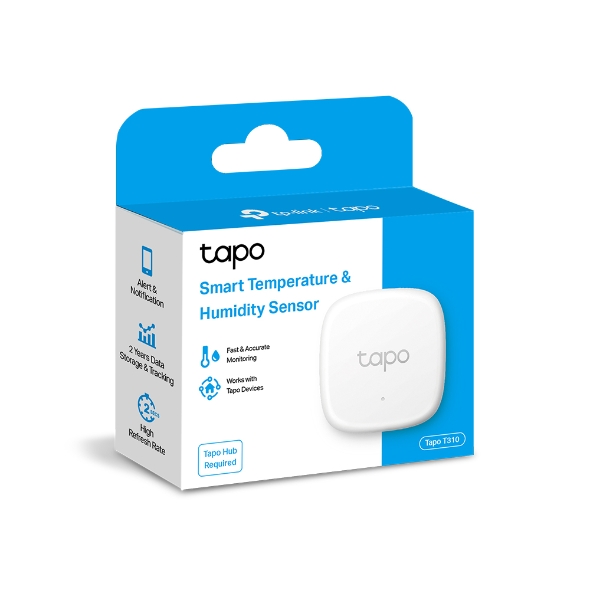 Monitor de Temperatura e Humidade Tapo Inteligente
Tapo T310
Monitorização rápida e precisa - Deteta a temperatura e humidade com sensor de alta precisão de fabrico suíço. Obtenção e atualização de dados de 2 em 2 segundos. (Precisão: ±0,3 °C, ±3% RH)
Home Automation - Liga/desliga automaticamente a eletrónica doméstica quando as definições estão fora das suas gamas predefinidas.
Armazenamento gratuito de dados e gráficos visuais - Regista dados de temperatura e humidade e gera resumos periódicos de dados.
Alertas de notificação de aplicação - Recebe alertas instantâneos no seu telefone sempre que os níveis se situam fora dos intervalos predefinidos.
Instalação flexível - Pendure-o com um cordão, prenda-o numa superfície com um adesivo ou íman, ou simplesmente coloque-o sobre uma secretária.

Smart Temperature & Humidity Sensor
Track Your Home's Climate
Tapo T310

HIGH-ACCURACY Sensor
±0.54°F/±0.3°C ±3%RH
Works with Tapo Devices
for home automation
Up to 2 Years
Battery Life
Instant App Notifications
2 Years of Data
Export for free
*Tapo Hub is required.
Monitor Conditions from Your Phone
Humidity and temperature can impact your personal health and comfort. Check a room's real-time temperature and humidity with the Tapo app from anywhere, at anytime.
High-Accuracy Sensor
The built-in Swiss-made sensor features a typical accuracy of ±3%RH, ±0.3°C / 0.54°F. By obtaining and updating data every 2 seconds, the sensor gives you accurate current information.
±3%RH
±0.3°C / ± 0.54ºF
Humidity Range: 0%~99%RH
Temperature Range: -20~60ºC / -4~140ºF
Instant App Alerts
Receive instant app notifications when temperature or humidity levels fall out your customized ranges. React promptly to sudden air condition changes whenever the need arises.
"Cigar Box": The temperature is higher than your preferred range at 11:30.
Maximize Comfort & Save Energy
The sensor automatically turns on/off appliances connected to Tapo devices, such as heaters, fans, and humidifiers, to adjust the comfort level in the room. It also helps to save on your energy bills.
Tapo Hub
Temp & Humidity Sensor
Smart Plug
Lower 16℃
Heater On
Higher 21℃
Heater Off
Data Storage & Export for Free
Understand your home environment with up to 2 years of cloud data logging and storage. Export all the data to a CSV file sent to your email to review at anytime.
Long-Lasting Performance
Thanks to its low-power wireless technology, Tapo T310 has an up to 2 years battery life with the replaceable CR2450 coin battery.*
*Battery life of up to 2 years is based on TP-Link's laboratory. Actual battery life may vary depending on working conditions.
Ventilation Hole / Sensor Opening
Lanyard Loop
LED Indicator
Back Panel Opening Pinhole
Versatile Usages, Flexible Placement
Designed small and stylish to fit in most places. Hang the sensor with its lanyard, mount to the wall with adhesives, or attach to metallic surfaces with magnets (all included).
Reptile Tank

Bedroom

Green House

Kitchen

Wine Cellar

Instruments

Office

Baby Room
*Images and information are for reference only. Actual products may vary.
Acompanhe a configuração passo a passo
Download and open Tapo App

Tap Plus (+) to add your smart device

Look for your device and connect

Name the device and choose the room it's in

Congratulations! You've now completed the configuration
Specifications
TECHNICAL SPECIFICATIONS
Temperature Accuracy:
±0.3°C /±0.54°F
GERAL
Operating Temperature:
-20~60ºC / -4~140ºF
Operating Humidity:
0%~99%RH
Dimensions( H X W X D ):
46*46*12.3 mm
Power Requirements:
CR2450 Coin Battery
Conteúdo da embalagem
Package Contents:
• Tapo T310• Battery CR2450• Lanyard• Quick Start Guide• 3M Adhesive• Adhesive Magnet• Eject Pin