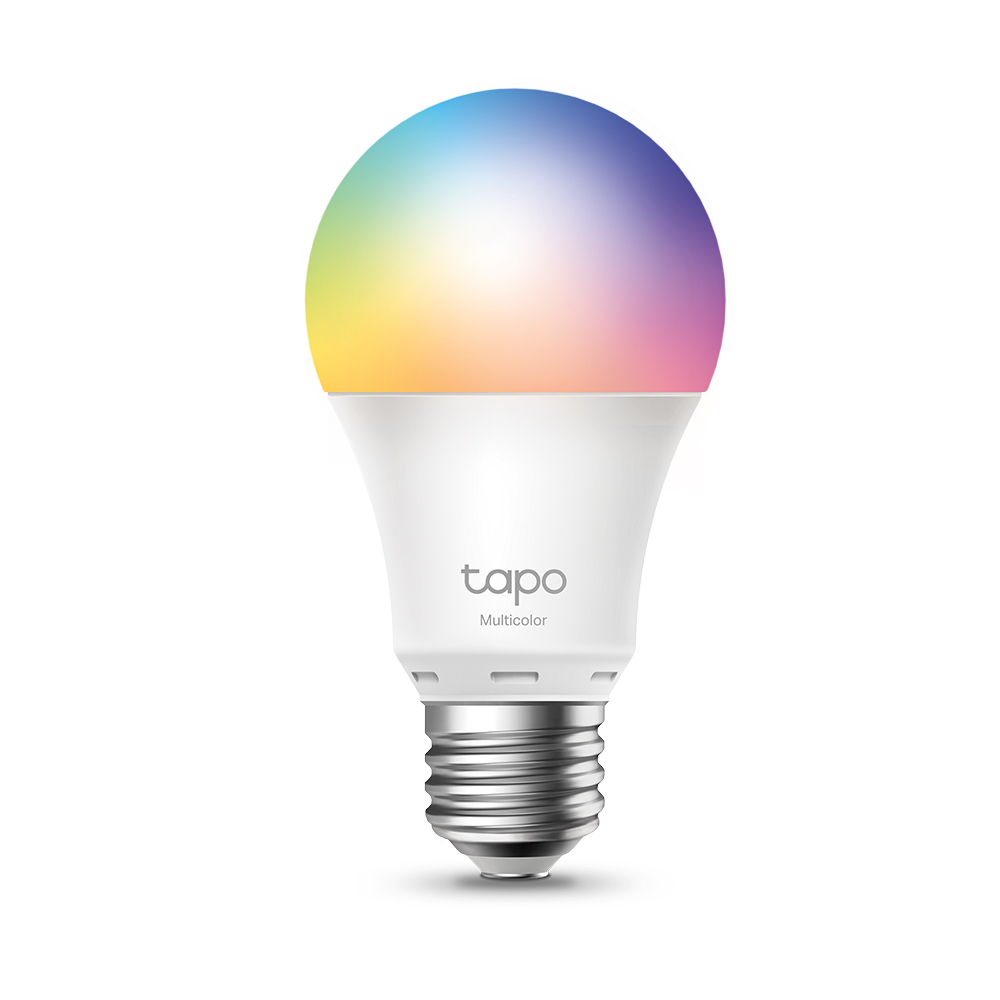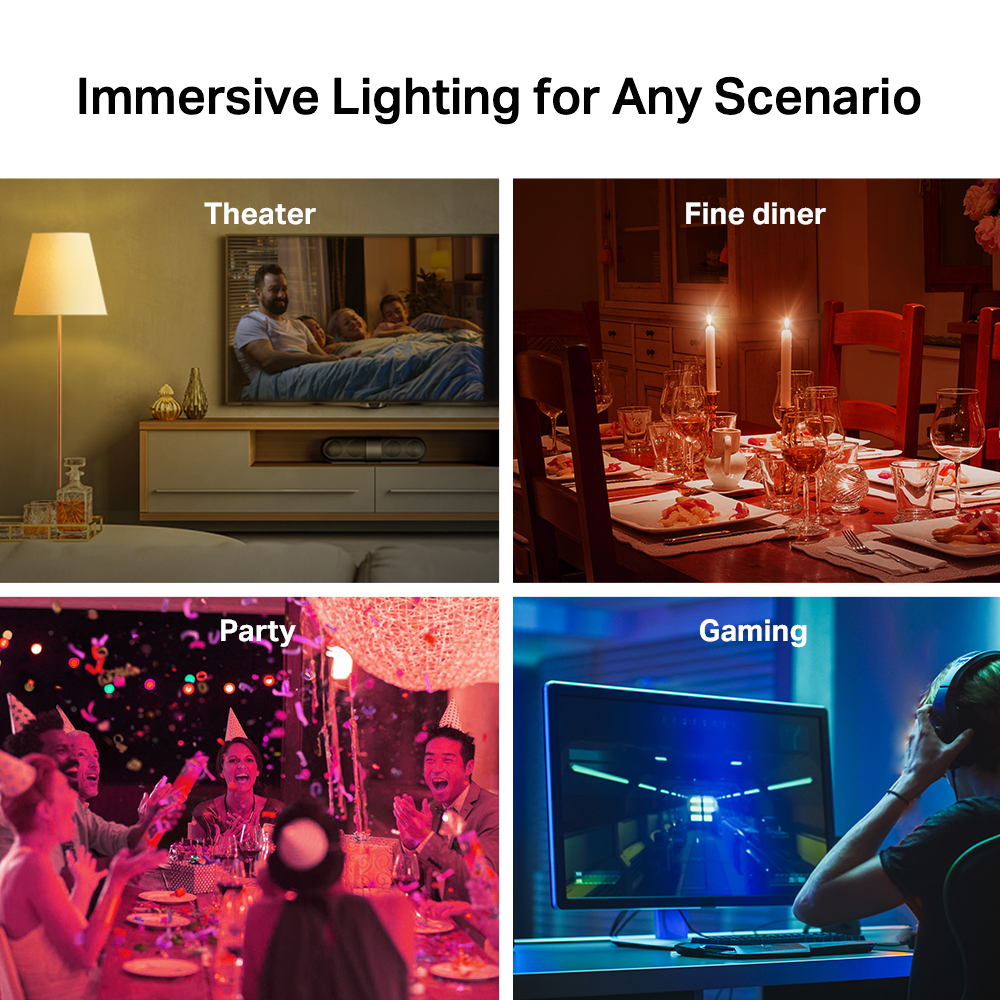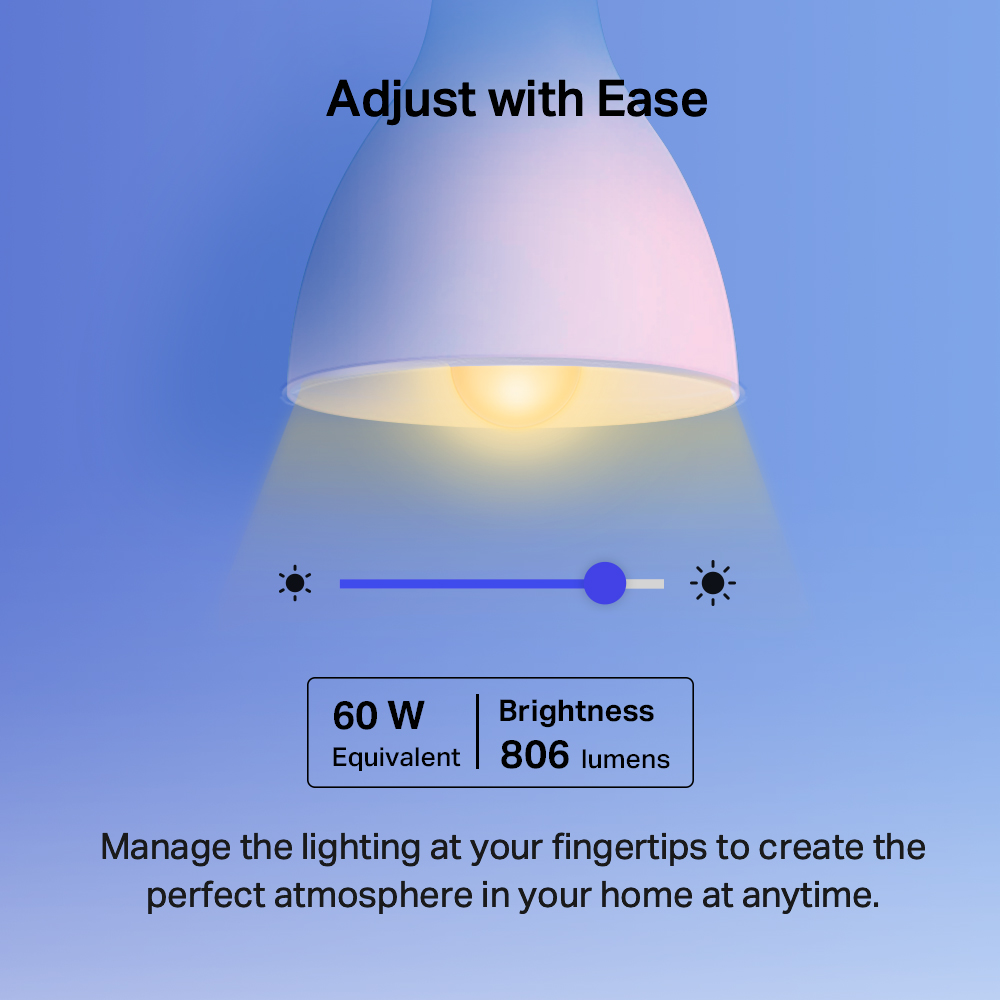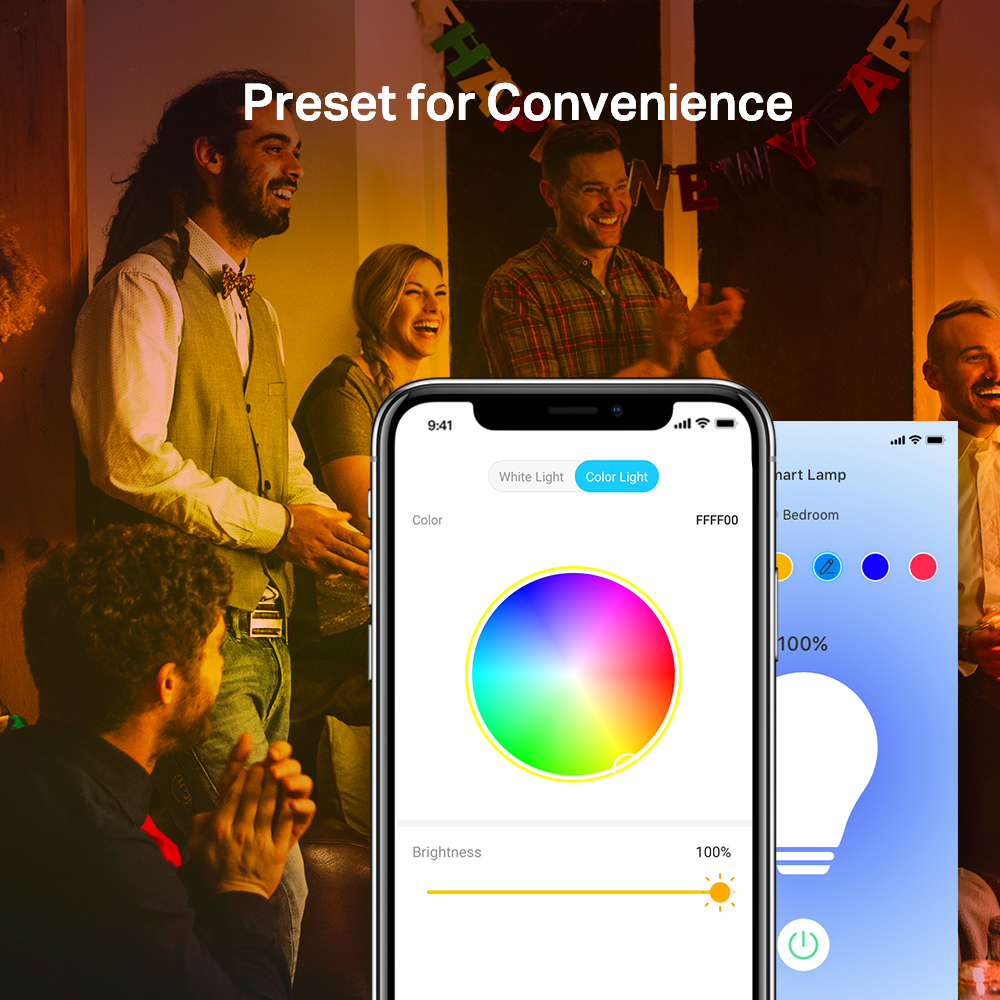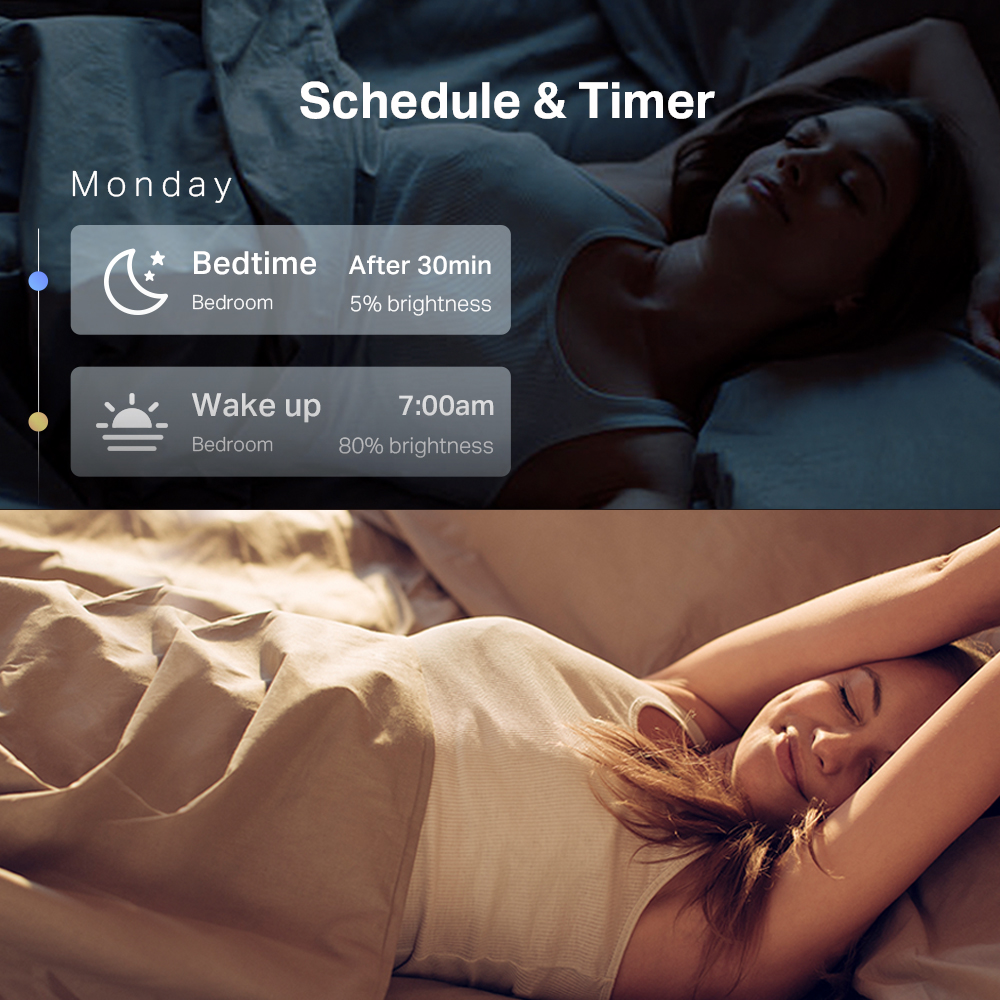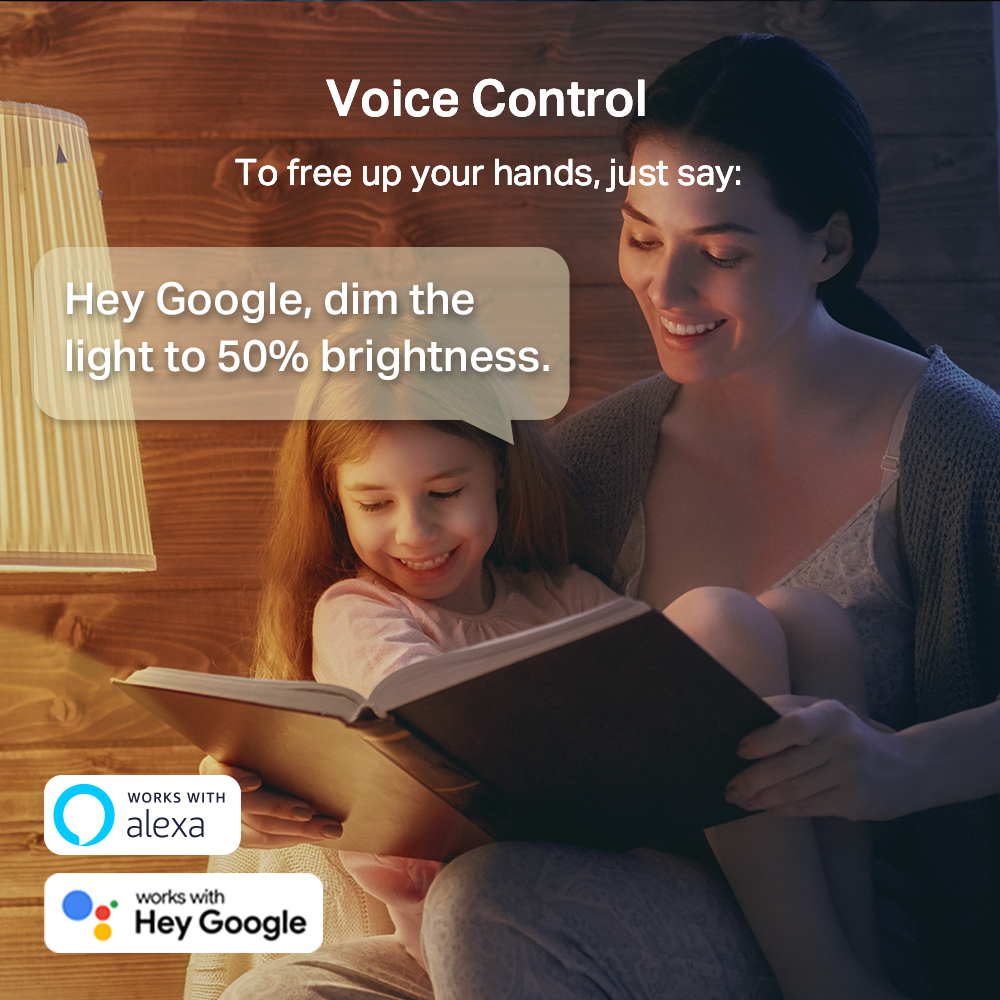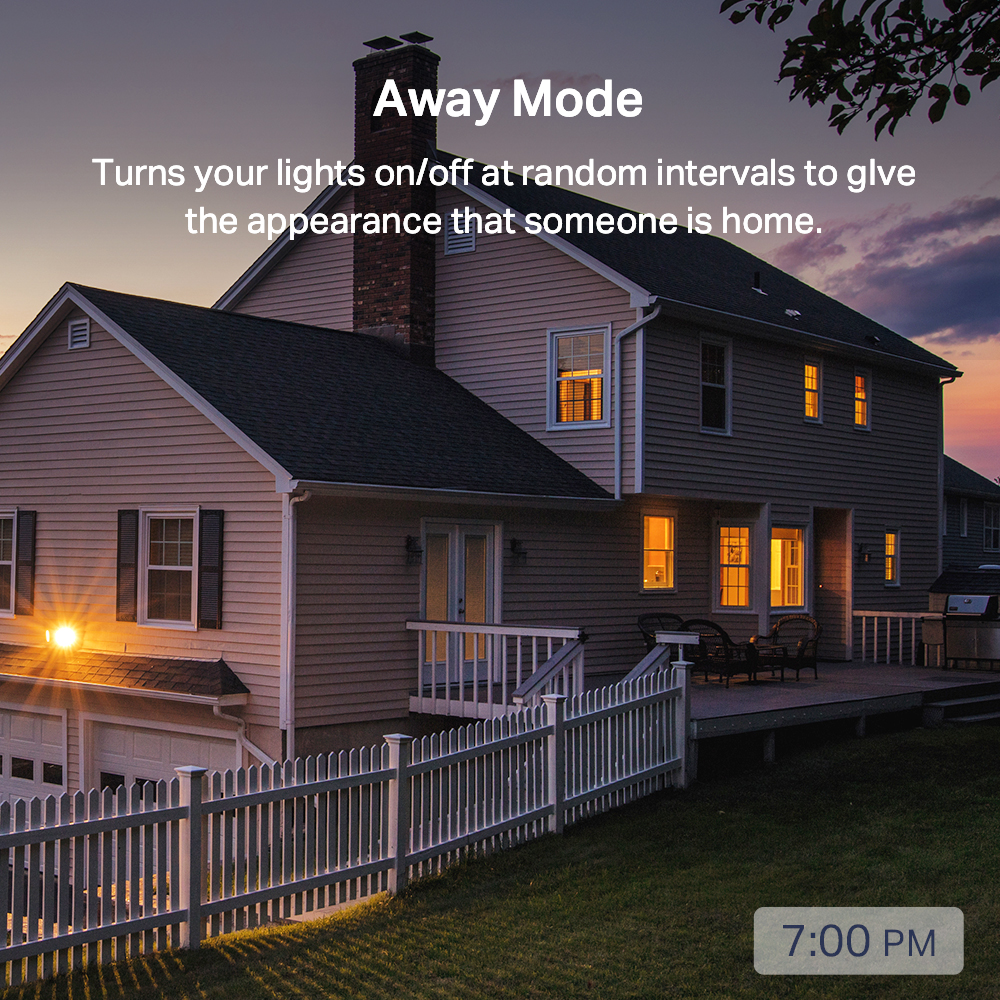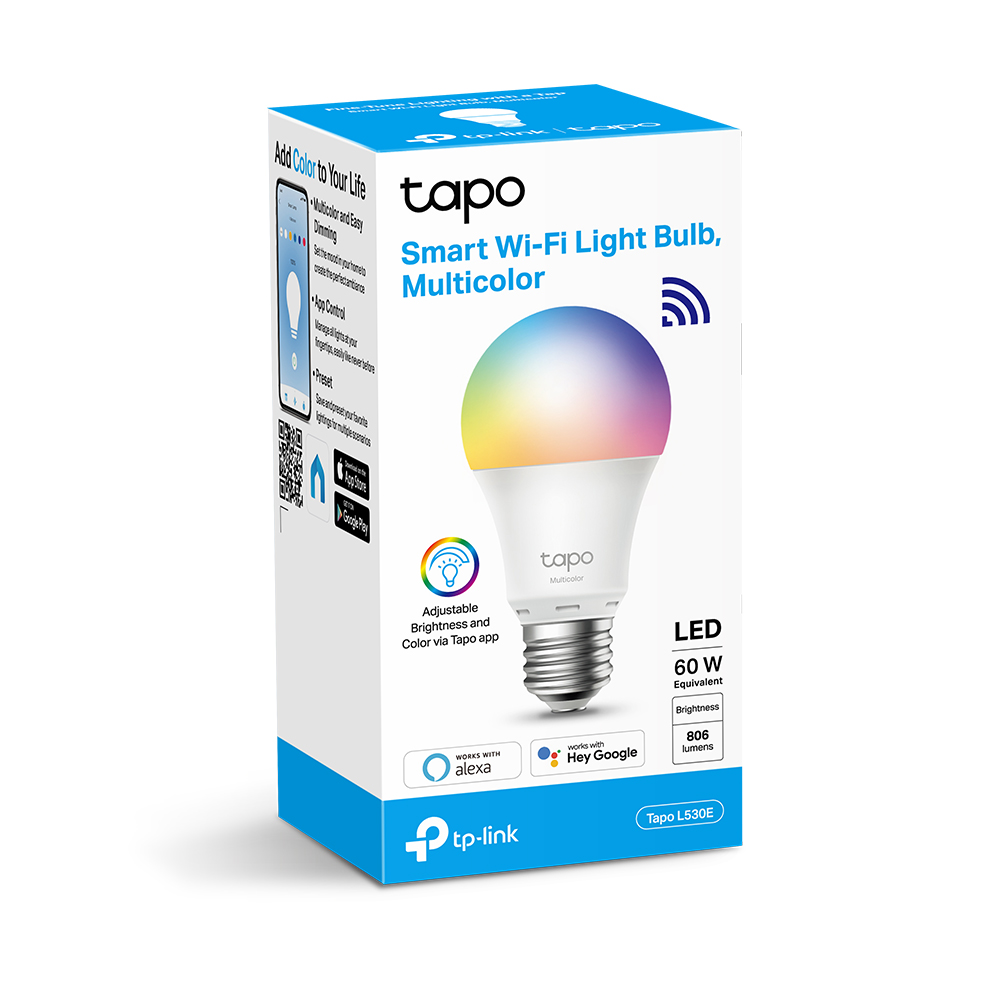 Smart Wi-Fi Light Bulb, Multicolor
Tapo L530E
• Multi-color (หลากสี) : ออกแบบสถานการณ์สำหรับกิจวัตรประจำวันหรือกิจกรรมของคุณได้อย่างง่ายดายด้วยการปรับแต่งความสว่าง แสงและสี ที่มีให้เลือกถึง 16 ล้านเฉดสี
• 60-watt equivalent (เทียบเท่า 60 วัตต์ ) : หลอด LED ให้ความสว่างสีขาวสูงถึง 806 ลูเมนส์และ ปรับช่วงลดแสงตั้งแต่ 1% ถึง 100% **ลูเมนส์ คือ หน่วยความสว่างของแสง
• Preset for Convenience : คุณสามารถบันทึกและตั้งค่าแสงสำหรับค่ำคืนของการชมภาพยนตร์ล่วงหน้าได้
• Schedule & Timer : จัดการชีวิตของคุณได้อย่างง่ายดาย โดยการสร้างตารางเวลาและวางแผนเพื่อเปิด/ปิด ด้วยความสว่าง/สี ที่คุณตั้งไว้
• Sunrise and Sunset Modes (โหมดพระอาทิตย์ขึ้นและพระอาทิตย์ตก) : เปิดใช้งานแสงของคุณโดยอัตโนมัติตามขอบเขตเวลาของคุณ
• No Hub Required (ไม่ต้องใช้ฮับ) : เชื่อมต่อหลอดไฟ L530E กับ WiFi ที่บ้านของคุณ แค่นี้ก็พร้อมใช้งานแล้ว
• Voice Control (การควบคุมด้วยเสียง) : จัดการไฟด้วยคำสั่งเสียงของคุณโดย Tapo สามารถทำงานร่วมกับ Amazon Alexa และ Google Assistant
• Remote Control : รองรับการควบคุมระยะไกลบน Tapo App สามารถควบคุมแสงของคุณได้ง่ายดายเสมือนอยู่ที่บ้าน
• Away Mode (โหมดไม่อยู่) : เปิด/ปิดไฟโดยการสุ่มช่วงเวลา จำลองเสมือนว่ามีคนอยู่บ้าน
• Restore Last Light State : หลอดไฟจะกลับสู่สถานะปิดเครื่องก่อนหน้านี้โดยอัตโนมัติ
Instantly Transform Any Space
Smart Wi-Fi Light Bulb, Multicolor
Tapo L530E


Theater
Fine dinner
Party
Gaming
Color Your Life
Immersive lighting for any scenario
Easily design scenarios for your daily routine or special activities by customizing brightness, color temperature (2,500-6,500 K), and colors—with 16,000,000 hues to choose from.
Dimmable
Adjust with Ease
Manage the lighting at your fingertips to create the perfect atmosphere in your home at anytime.

Preset for Convenience
Found your favorite lighting for watching movies? Save it as a setting you can simply select for future movie nights.
Bedtime

Bedroom

After 30min

5% brightness
Wake up

Bedroom

7:00am

80% brightness
Schedule & Timer
Easily Manage Your Life
Create regular schedules and countplans to turn on/off with the brightness you set. Sunrise and sunset modes allow the light to activate automatically according to your time zone.
Hey Google, dim the
light to 50% brightness.
Alexa, change the
light to yellow.
Start a Lifestyle Powered by Your Voice
Works with Amazon Alexa and Google Assistant to free up your hands. Just say "Alexa, turn on the light" or "Hey Google, dim my bedroom lights."
Streamline Your Life with Remote Control
With L530E and the Tapo app, you just need one tap on your smart phone, then everything is on. No matter how late you arrive home ,Tapo is always there. Welcome home!
Go on Vacation with Peace of Mind
Away Mode turns your lights on/off at random intervals to make it look like someone is home—deterring anyone with ill intent.
No Hub Required

Connect the L530E Light to your home Wi-Fi network, then you are all set. No need for extra hubs or other devices.

Energy Saving

Advanced technology allows Tapo L530 to use less energy than normal LED lights—only 8.7 W for 806 lm (60 W equivalent).

Tapo Ecosystem

The Tapo app puts total control in the palm of your hand. Tapo's ever-growing ecosystem makes your home truly smart.
Easy Setup with Streamline Configuration
Follow the step-by-step guide to complete setup in mere minutes.
Download the Tapo app
Screw in the Light Bulb
Follow the guidance in the app
CAUTION: The increased weight may reduce the mechanical stability of certain luminaires and lamp holders and may impair contact-making and lamp retention
Walk You Through Setup Step by Step
Download and open Tapo App

Tap Plus (+) to add your smart device

Look for your device and connect

Name the device and choose the room it's in

Congratulations! You've now completed the configuration
Watch the whole setup process in the whole
How to Set Up a Tapo Smart Wi-Fi Light Bulb (Tapo L510/L520 L530) | TP-Link

Tapo L530E

Quick Tips: How to Link you TP-Link Tapo Account to Amazon Alexa

Tapo L530E

Quick Tips: How to Link your TP-Link Tapo Account to Google Assistant

Tapo L530E

How to Reset a Tapo Smart Wi-Fi Light Bulb (Tapo L510/L520/L530) | TP-Link

Tapo L530E
Specifications
GENERAL
Package Contents:
1. Tapo L530E2. Quick Start Guide
Lamp Base:
EU/TW Version: E27US/KR/JP Version: E26
Dimensions( H X W X D ):
115 × 60 mm
Communication
Wi-Fi Protocol:
IEEE 802.11b/g/n
Wi-Fi Frequency:
2.4 GHz Wi-Fi
TECHNICAL SPECIFICATIONS
Weighted Energy Consumption:
8.7 kWh/1000h
Warm-up Time up to 95%:
≤1 s
Colour Rendering Index:
≥ 80
Switching Circles:
15,000
Working Status
Input:
220–240 V, 50/60 Hz, 73 mA
Typical Lumen Output:
806 lumens
Input Power (Actual power draw in Watts):
8.7 W
Color Temperature:
2,500 K~6,500 K