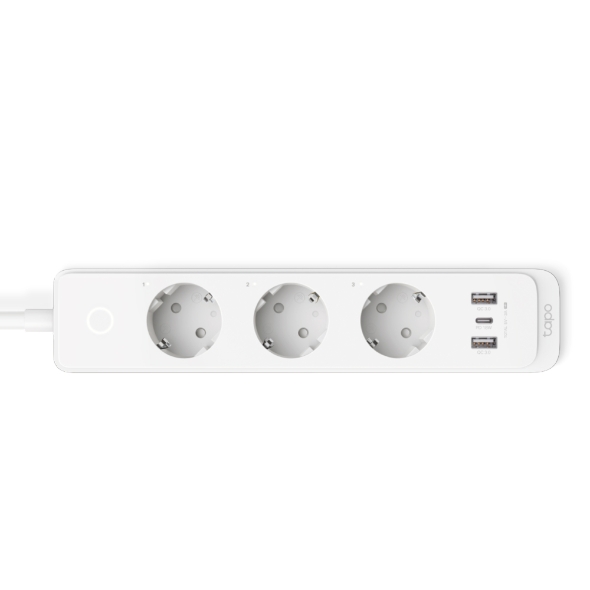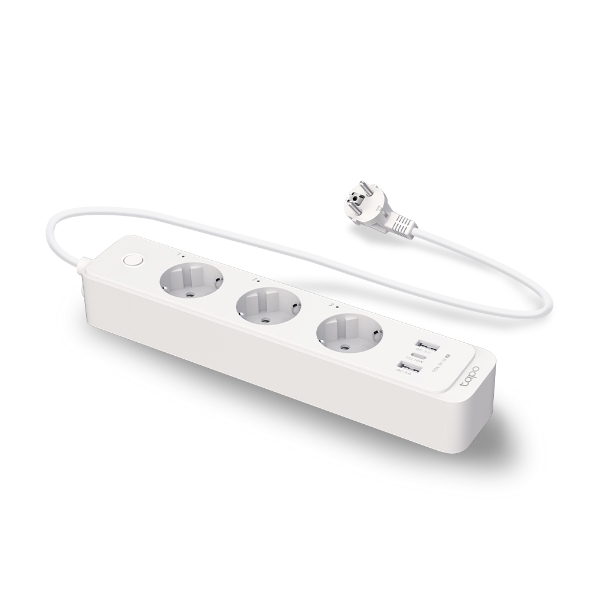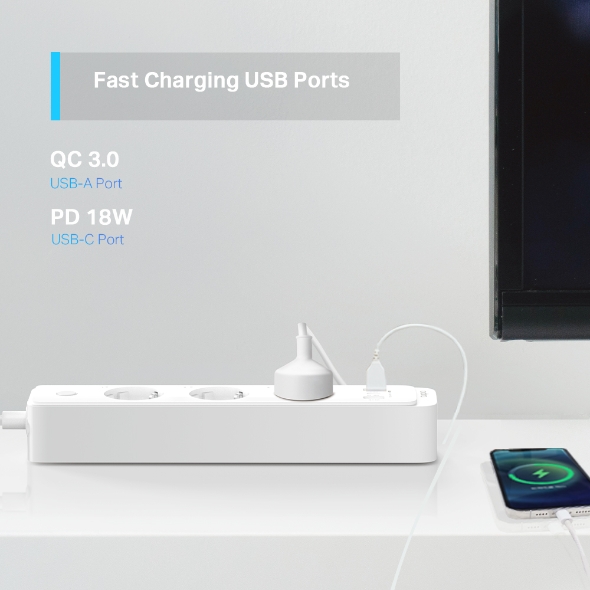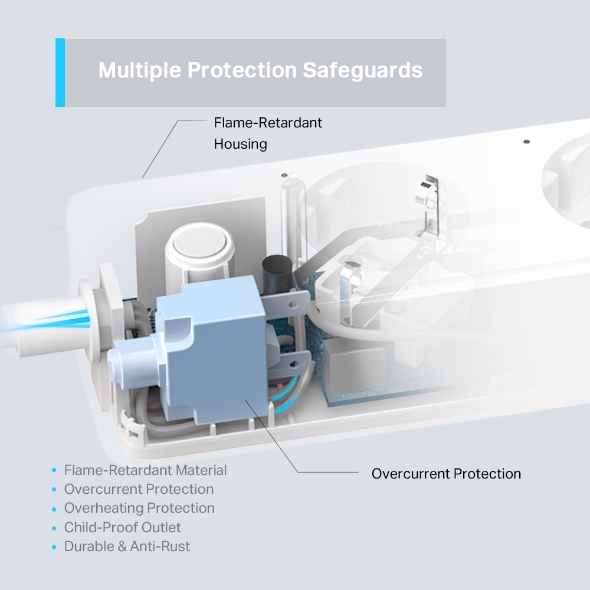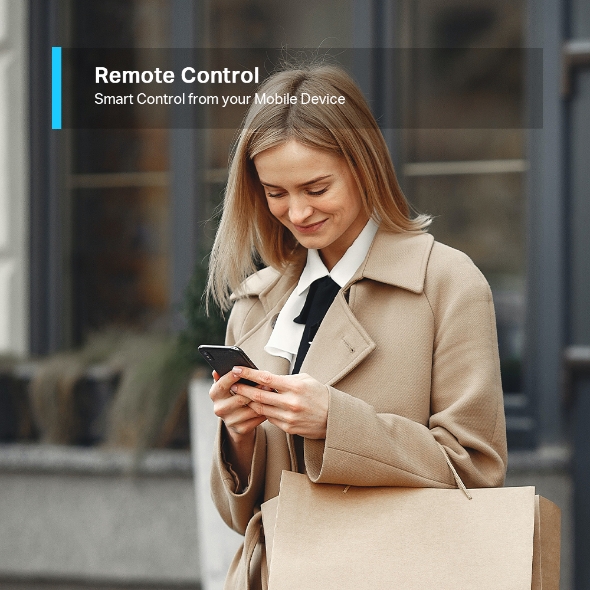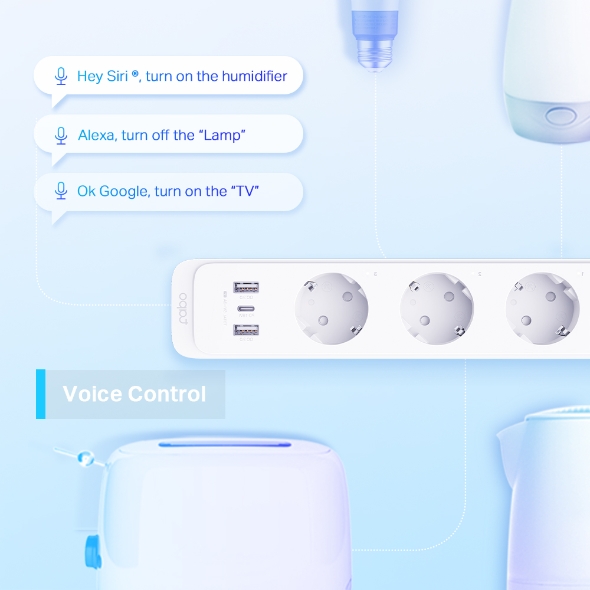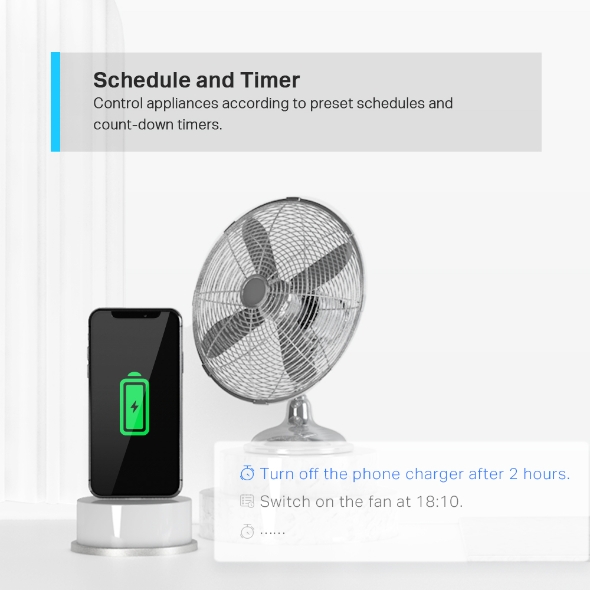 Smart Wi-Fi Power Strip
Tapo P300
Individual Control -

Separately control 3 smart outlets on the power strip via app or voice commands.

18 W Fast Charging¹ -

Supports up to 18W PD and QC3.0 charging for compatible devices.

HomeKit Enable -

Control your connected devices directly from your Apple devices.

Remote Control -

Instantly turn connected devices on/off wherever you are through the Tapo app.

Voice Control²

- Manage your

smart plug

with voice commands

via

Amazon Alexa, Siri,

or the

Google Assistant.

Schedule & Timer -

Set schedules or timers to automate conneted devices.

Away Mode

- Automatically turns devices on and off at different times to simulate occupancy for added security.

Easy Setup and Use -

No hub required, set up quickly and manage easily through the free app.

Guaranteed Safety - Multiple safety features offer all-round protection to safeguard you and your family.
Power for all.
Smart Wi-Fi Power Strip
Tapo P300
One for All
USB-C
USB-A
Individual Control
Smart Outlets
18 W
PD / QC3.0
Fast-Charging¹
Multiple Protection Safeguards
Flame Retardant³
Overcurrent Protection
Overheating Protection
Child-Proof Outlet Door
ON/OFF Button
with LED System Indicator
3×Smart Outlets
Individually controlled via app or voice commandss.
*The total max output when two or more ports are in use is 5V=3A.
Remote Control

Local Control
Remote Control
Smart Control from your Mobile Device
Manage your connected devices from anywhere with the Tapo app. It's designed to support your lifestyle and keep your family safe.
Office

Shopping

Commute

Sport
Local Control
No Internet, No Problems
Instantly turn connected devices on/off wherever you are via the Tapo app or the Apple Home app. Designed to facilitate your life and help eliminate potential safety hazards.
Embrace Apple HomeKit
Control your home's lights, fan, and more using the Apple Home app and Siri on your iPhone, iPad, Apple Watch, HomePod, or Mac.
Fast Charging USB Ports
Provides fast charging for you phones and tablets at high speed. Charge compatible devices up to 2.5x times faster than conventional 5W chargers.
50%
18W Power Deliver¹
5W Standard Charger
20%
30min
QC 3.0
USB-A Port
PD 18W
USB-C Port
Voice Control²
Hands-free convenience,
better than ever.
Live Smarter by Presetting Time
Schedule and Timer features allow you to create weekly schedule and countdown plans. All of your connected electronics will automatically work at your preset time, making your life smart, convenient, and energy-saving.
Floor Lamp
07:00 AM
Weekdays
Ambient Lights
10:30 PM
Mon, Wed, Sun
Stand Fan
50 mins
Countdown
Guaranteed Safety
Multiple safety features offer all-round protection to safeguard you and your family.
Flame-Retardant Housing³
Overcurrent Protection
Flame-Retardant Material

Overcurrent Protection

Overheating Protection

Child-Proof Outlet

Durable & Anti-Rust
Power-Off Memory
No Power? No Internet Connection? No Worries! Your routines will continue.
Default Status
Once the power or connection returns, your Tapo smart plug can take on a specific power status:
— Previous power status (default)
— Off (ideal for the heater)
— On
Share to Families
Not limited to single control, family members can directly share management permissions with each other, saving time and enhancing user-friendliness.
A Deterrent for Your Home
Away Mode, a feature that intelligently simulates someone being home by turning the plugged in device (like a lamp) on and off, makes it appear that someone is home when you're on long trips to keep away people with ill intent.
* Smart features (including, but not limited to, voice control, remote control, automatice schedule, timer and more) apply only to the smart AC outlets. The USB ports are always on.
1. When two or more ports are used, the total max output is 5V/3A shared between them.
2. Need to pair with a voice recognition device or service, sold separately.
3. Made with V-0 (UL94) flame-retardant material.
Walk You Through Setup Step by Step
Download and open Tapo App

Tap Plus (+) to add your smart device

Look for your device and connect

Name the device and choose the room it's in

Congratulations! You've now completed the configuration
Specifications
МРЕЖА
Protocol:
IEEE 802.11b/g/n, Bluetooth 4.2
Системни изисквания:
Android 5 или по-нова версия, iOS 10 или по-нова версия
ОБЩИ ХАРАКТЕРИСТИКИ
Размери:
268 х 55 х 40 mm, 1,5 m кабел
Бутони :
Бутон захранване
LED индикатор на състоянието
Power Requirements:
Захранване AC 220-240 V~50/60 Hz
ДРУГИ
Съдържание на пакета:
Tapo P300 интелигентен Wi-Fi разклонител
Ръководство за бърз старт
Околна среда:
Околна температура при работа: 0ºC–35ºC
Околна влажност при работа: 10%–90% отн. влажност, некондензираща